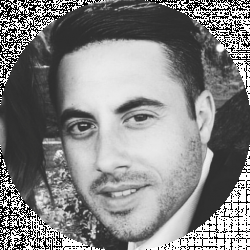 Latest posts by David Borgogni
(see all)
People are willing to spend a lot of money to improve their home decor.
Signing up as an affiliate for a furniture business can be very lucrative. A lot of consumers now go online to find ideas to rejuvenate their homes and many will also buy their furniture on the internet.
This presents a great opportunity to promote affiliate furniture and home decor products.
This is why in this article we are going to explore the best furniture affiliate programs you can apply to in the furniture and home decor niche. We'll also outline things that you should look out for with an affiliate program too.
Things to look for in an affiliate furniture program
Heading straight in and signing up to the first furniture affiliate program you find is not a good idea. You need to do some research first.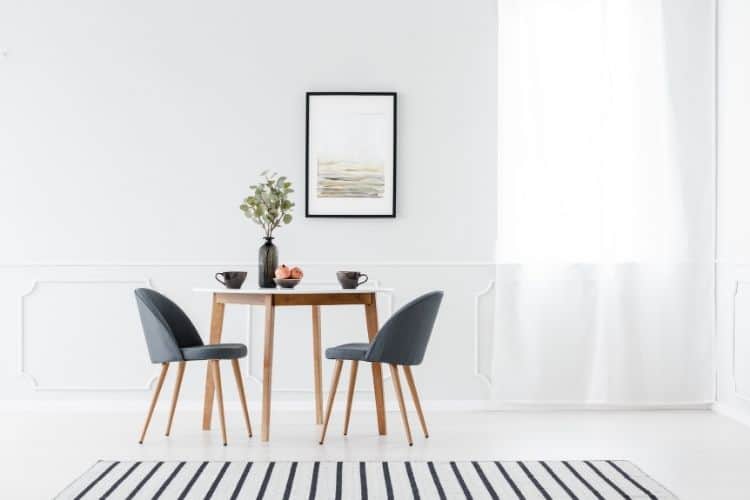 Luckily, we are going to show you the main things you should look at before deciding on what affiliate program(s) to choose.
Commission
The commission that you get paid is probably the first thing you will look for in an affiliate program. It is important, but it shouldn't be the only aspect you consider.
If you don't know what commission means, it is the percentage you get paid when someone buys a product through your affiliate link. For example, if the affiliate program pays a 20% commission and someone buys a product through your affiliate link at $100, you will get $20 for the sale.
Cookie duration
Another important thing to consider with any affiliate program is the cookie duration.
A cookie is a small file placed on your computer. It helps affiliate programs know where the customer has come from and helps to identify who they pay the commission to if that person makes a purchase.
If someone clicks on your affiliate link, it will create and store a small cookie file on their computer and when they make a purchase, it will identify you as the referrer. The 'cookie duration' means how long that cookie lasts and how long someone has to make a purchase so you get a commission.
If a program has a cookie duration of 30 days and someone clicks your affiliate link, they have 30 days to make a purchase for you to get paid. If it takes them longer than 30 days to do this, you won't get a commission from that sale.
Range of products
Something else to consider is the range of products that they offer through an affiliate program.
Many furniture affiliate programs do provide a wide number of products. This can give you many opportunities to earn decent money. A consumer might see one item they want to buy but when they click through to the retailers' website, they might go on purchase several items.
If you are targeting a very niche part of the furniture market this might not be such a big deal. However, retailers that do offer a wide selection of furniture and home decor are normally good programs to be a part of.
Help and support
Finally, you should also consider what help and support are on offer from an affiliate program.
This is especially important if you are new to affiliate marketing and promotion. Although, even experienced affiliates need help at some point.
Look at what contact options they have, if they provide any resources to help you out, and also how good their all-around customer service is.
10 Best Furniture Affiliate Programs
Joybird
If you are thinking of targeting families and those with pets, Joybird is an ideal choice.
Their home furniture products have been specifically made with families and households with cats, dogs, and others pets in mind. Many of the fabrics they use for their home furniture are spill-resistant so it is perfect for family homes.
Aside from the great range of products they offer, Joybird provides a 15% commission. Their cookie duration is also really good at 60 days.
The customer services that Joybird provides for customers will also help boost conversions. They offer a 90 day return period.
Pros
Good rate of commission and cookie duration
Sell a wide variety of home furniture
Offer customizable options for home decor
Aimed at families and households with pets
Cons
It is a niche market, but the products can appeal to many people.
Horchow.com (Neiman Marcus)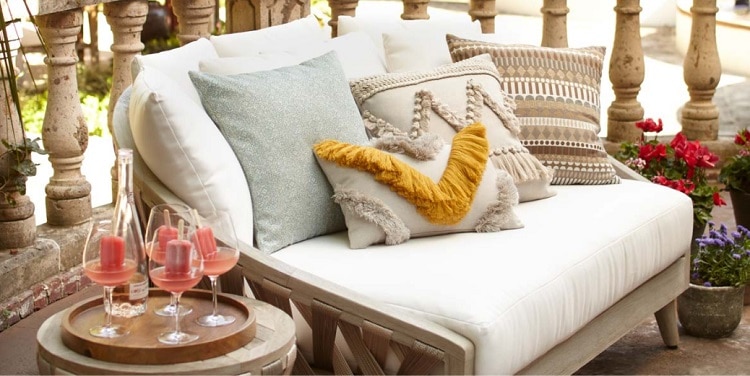 The next furniture affiliate on our list is Horchow.com (Neiman Marcus).
They offer a pretty good commission at 7.99% although we are a little disappointed with their cookie duration. It is only 14 days which is a bit on the short side.
However, Horchow.com does offer a great range of home furniture products. Their furniture has an elegant feel, and the home decor items they sell are quite expensive.
This is not a bad thing as you can make good money with only a few sales. Some of their dining room sets for example go well into the thousands of dollars which means you'll get a very decent affiliate commission.
Pros
Provides quality and high-value furniture
Good rate of commission
Ability to make a lot of money with just a few sales
Cons
Cookie duration is a bit short at only 14 days
Totally Furniture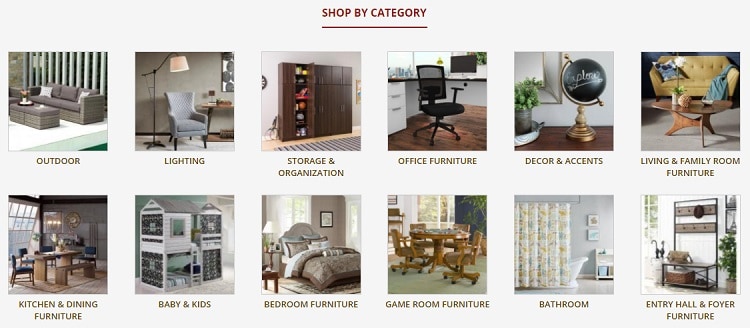 Totally Furniture offers a varied catalog of different home decor items. This is something we do look for when choosing an affiliate program.
It is not just the range of products that Totally Furniture has that make their affiliate program a great one to be involved with. They offer a 6% commission which can seem a bit low, but their products are elegant and can be pretty expensive too. That is a good thing as an affiliate because a few sales can yield great results.
The Totally Furniture affiliate program also offers a generous 180-day cookie duration and bonuses such as $10 for the first order through your affiliate link.
Pros
180-day cookie duration
Sells a wide variety of products
Offers certain bonuses for affiliates
Cons
The commission rate is a bit low
Sprout

In keeping with the family theme, Sprout is one of the most niche affiliate programs on our list.
It is solely aimed at children's furniture – for example, items such as children's tables and seating, beds, and homeschooling furniture as well.
Sprout offers a 10% commission for affiliates, and the cookie duration is 60 days which is good. You get access to several resources when you sign up as a Sprout affiliate. This includes access to photography for promotion and regular updates on new products.
As a particularly niche area, Sprout offers a great affiliate program.
Pros
Ideal if you want to target a niche market
Good cookie duration and commission rate
Get access to various resources
Cons
Items are quite cheap so you'll need to make a lot of sales
Ashley Homestore

Ashley Homestore is another affordable home furniture outlet however they do provide a wide range of items.
They offer everything from living room furniture, bedroom decor, mattresses, kitchen products as well as garden and outdoor accessories. Even though they aren't the most expensive retailer out there, they do appeal to a large number of people. Many people will likely buy several furniture items at once from Ashley Homestore.
As an affiliate, you get a 4.99% commission rate and a 30-day cookie duration which gives you plenty of time for someone to purchase through your affiliate link.
Pros
Wide range of stylish home furniture items
Decent cookie duration of 30-days
Furniture and home decor will appeal to a wide number of people
Cons
The commission rate is a bit low considering their products aren't that expensive
Wayfair

Most people will have heard of Wayfair as they are a very popular national and international home furniture outlet.
Wayfair offers a 7% commission and a 7-day cookie duration. We would have liked a longer cookie duration as 7-days is at the shorter end of the scale. However, the wide range of products that Wayfair offers does make up for this. Through their affiliate program, there are over 2 million products available.
There is something for everyone on Wayfair regardless of what type of style you are after for your home.
Pros
Huge range of home furniture products
Affordable so people will often buy a lot at once
Decent rate of commission
Cons
Cookie duration is very short at just 7-days
Rug Source

Most of our attention so far has been focused on items such as sofas, dining room sets, and other home furniture, but what about rugs? They are an integral part of completing a home decor project and Rug Source is a great affiliate program to join.
Not only do they offer a 10% commission, but they also provide a whopping 180 days cookie duration.
Rug Source is the go-to place for many people to buy a rug to complete the look of a room. They have a wide range of different rugs in many styles and designs.
Pros
Great commission and cookie duration
Popular rug retailer who make a lot of sales
Ideal for targeting a niche audience
Cons
The business is limited to one particular home decor item
Loom Decor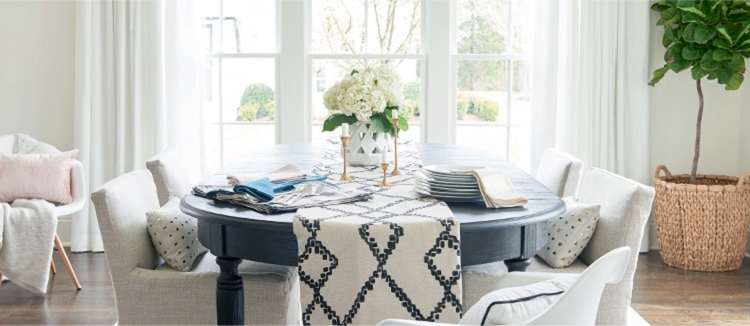 Loom Decor is the perfect place to go if you want something custom for your home.
Their target audience is those who want custom window treatments and furnishings. As an affiliate, this gives you a good chance to aim your marketing efforts at people who want bespoke products.
The Loom Decor affiliate program offers a 10% commission per sale and a generous cookie duration of 60 days.
Pros
Good rate of commission
60-day cookie duration
Offer custom designs that will appeal to many people
Cons
Products are limited to custom window treatments and furnishings
One Kings Lane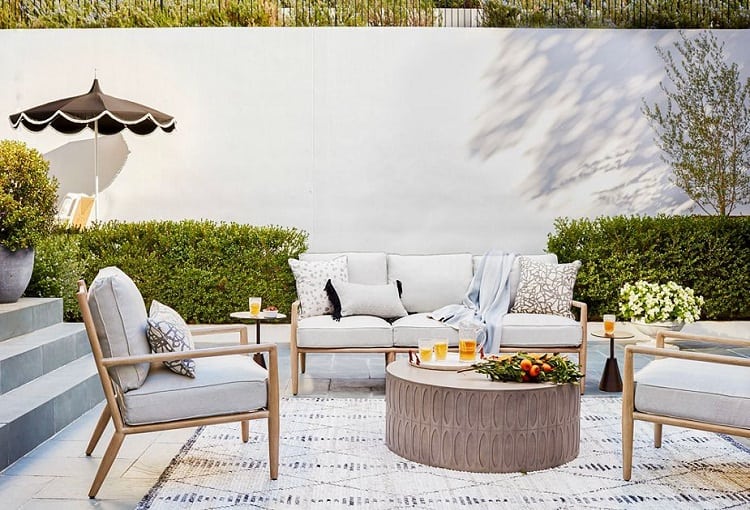 One Kings Lane sells a lot of great home furniture and decor products. This ranges from sofas, tables, beds, dining room furniture, rugs, lighting, and a lot of artwork.
If you are planning on targeting a varied mix of people rather than a niche subject area, One Kings Lane is a good place to do it.
Their affiliate program offers a 5% commission on each sale with a 14-day cookie duration. It is not the best out there but the massive range of products and styles they offer means that you can target a lot of potential customers.
In addition to the cookie duration and commission rate, One Kings Lane offers affiliates access to an affiliate team for support and monthly updates on new products and offers. This helps you to maximize sales.
Pros
Provides a wide range of home furniture items
You can target a varied and diverse audience
Access to affiliate support teams
Cons
Pretty low commission rate
Best Portable Bars

We're going to finish up with Best Portable Bars.
On its own, being an affiliate with Best Portable Bars probably is not going to bring you a consistent income. However, being an affiliate to this pretty niche business means you can offer something a bit different alongside your other affiliate ventures.
Best Portable Bars provides a great range of bars that would be perfect in a man cave or even a home bar set up. Many people are now building a bar in their homes so it is the right time to start targeting this audience.
BST offers a 5% commission and 45-day cookie duration. As we said, probably not one to focus your full attention on however there is great potential as an affiliate to make some money.
Pros
Niche business but one that is growing
Good cookie duration of 45 days
Items are quite expensive so you don't need to make a lot of sales to generate a good commission
Cons
It probably won't be enough to sustain a consistent affiliate income
Frequently Asked Questions about Furniture Affiliate Programs
Question: Can I make money with a furniture affiliate program?
Answer: It depends. While they give you the resources to sign up and often provide marketing materials, it is up to you to promote their products and get clicks on your affiliate links.
Question: How much commission will I earn with a furniture affiliate program?
Answer: It varies depending on the affiliate program. Commission rates often range from below 5% up to 20%. A lower commission rate with a retailer that sells expensive furniture can often yield better returns than a higher commission that sells low-priced items.
Question: What is an affiliate program cookie?
Answer: A cookie is a small file that is placed on your computer. For affiliate programs, a cookie is used to identify that someone has clicked on your affiliate link, so when they make a purchase, you will get a commission.
Question: Can I sign up as an affiliate to more than one company?
Answer: Yes. There is no restriction on how many businesses you can be an affiliate for. It is a good idea to focus your attention on a small number though instead of spreading yourself too thin and promoting a lot of different businesses at once.
Question: How often do I get paid my affiliate earnings?
Answer: It depends on the affiliate program. Most will payout monthly although you may find some that operate on weekly payments.
Question: How do I promote my home furniture affiliate products?
Answer: There are many ways to do this from blog posts to online advertisements. There are many resources online that detail how to start promoting products as an affiliate.
Question: Do I get marketing materials as an affiliate?
Answer: Sometimes. It depends on the affiliate program you sign up with and the business you are promoting. Most will offer resources such as images, banners, and a data feed.
Which is the best furniture affiliate program?
Signing up for a furniture affiliate program and promoting their products can yield great results. With the correct marketing techniques and appealing products, you can make some good money from affiliate sales.
How do we choose the best furniture affiliate program?
We are going to go with Joybird.
It might seem a bit limiting because their furniture is aimed at families and households with pets. Most of their products are manufactured with this kind of design in mind. However, they do offer a good range of items that will appeal to a large number of people.
It is also a very good niche subject to focus on.
A commission rate of 15%, as well as a 60-day cookie duration, seals it for us.
Remember, you don't need to restrict yourself to just one affiliate program but if you are starting and looking for the best one in terms of commission, range of products, and cookie duration, Joybird wins it for us.
For more furniture-related affiliate programs; check the links below: