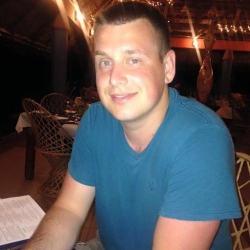 Latest posts by Ewen Finser
(see all)
If you've ever tried to build a consolidate view of affiliate site performance, you know the pain!
Each affiliate dashboard has a slightly different setup, filters, APIs, and requirements. Some platforms don't easily export.
Over the last 5+ years a whole class of new dashboard in a box solutions have popped up. While not the first, Affilimate is one of the faster growing recent affiliate dashboard services, aiming to solve the many reporting challenges of affiliate webmasters.
But is Affilimate ready for prime time?
We originally used a tool called Affluent.io for all of our dashboard tracking, but I was very curious about Affilimate.
We actually signed up a few of our portfolios to test it out. There's definitely some pros and cons to consider. Here's what we found:
What is Affilimate?
Affilimate is a comprehensive affiliate analytics dashboard. It helps publisher makes sense of their diverse revenue streams and drive meaningful decisions to optimize revenue.
In short, if you've struggled with trying to understand your content business in one view, Affiliate integrates ALL of your affiliate channels and platforms into one view so you can easily see what's going on.
Using Affilimate, you can easily get a birds-eye view of what's happening in your publisher revenue ops:


How to Use Affilimate
Affilimate provides a fairly good initial data setup to capture most of what you need right away.
The first step is to onboard your site (or sites) to Affilimate with this tracking code (check your local dashboard as this might change):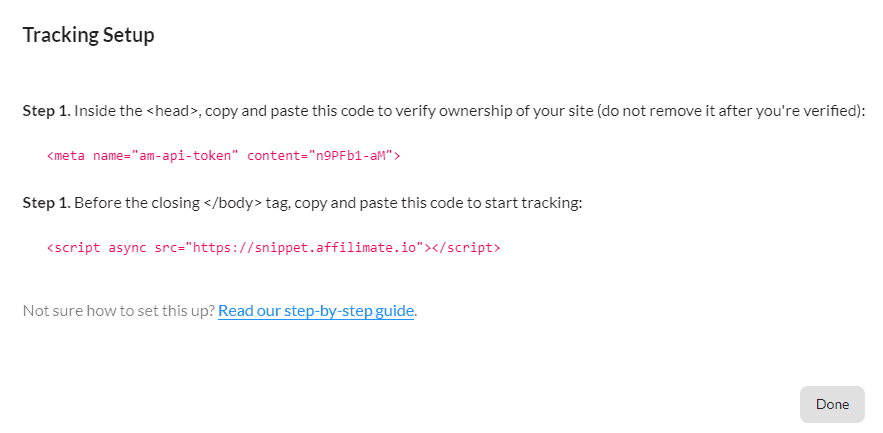 Step 1: Insert the meta tracking code inside the site header area (usually within the brackets <head>). Using WordPress an easy code injection plugin like WP Insert, WPCode (Insert Headers and Footers), or Woody Code Snippets.
Step 2: Add the closing script (seen above) in the </body> tag somewhere. You also can use one of the aforementioned plugins in WordPress.
The next key process to get familiar with is adding data integrations with various affiliate networks like CJ, Shareasale, etc… This process generally involves something like this: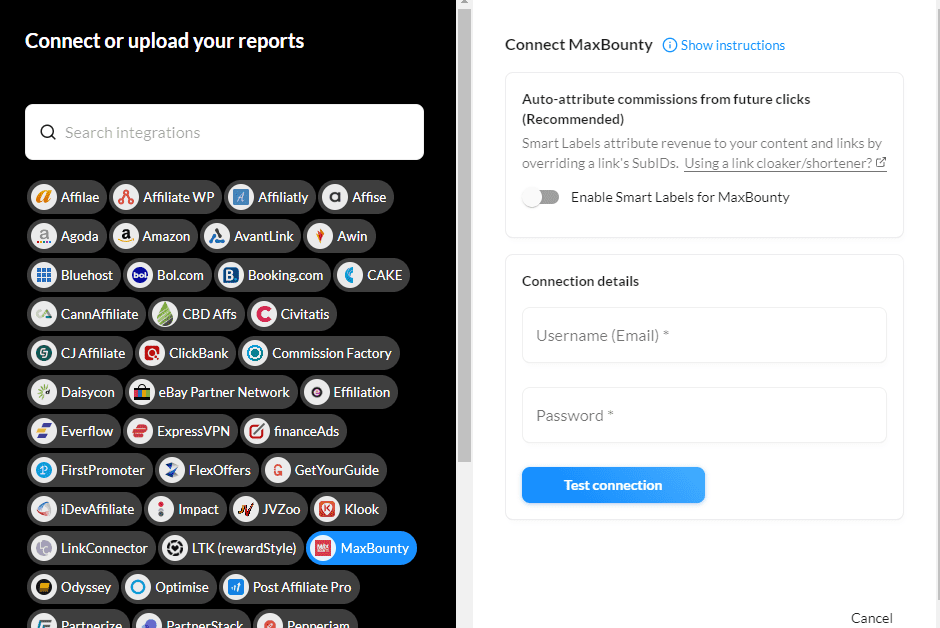 This must be repeated for EACH network or partner ID dashboard.
What Affiliate Platforms Does Affilimate Integrate With?
While this list of 100+ partners tends to change frequently, I'll do my best to keep this updated.
Affilimate integrates with these major platforms:
AvantLink
Awin
CJ Affiliate
CommissionFactory
FlexOffers
ImpactRadius
PartnerStack
Partnerize
Skimlinks
ShareASale
Refersion
Rakuten
Pepperjam
Sovrn
Tune (HasOffers)
IDevAffiliate
Everflow
JVZoo
Cake
Affiliatly
PostAffiliatePro
AffiliateWP
MaxBounty
Ebay Partner Network
Clickbank
Bluehost (direct)
UberNet
TradeDoubler
Webgains
Viator
HotelsCombined
Aragon Advertising
AffiliaXe
MoreNiche
TravelPayouts
GoAffPro
And more… (generally minor platforms, direct)
What Key Affiliate Platforms is Affilimate Missing?
While Affilimate has MANY more affiliate integrations than most platforms, there are a few gaps in coverage.
Amazon Associates: While Amazon is listed as an integrated platform, it's really only if you manually upload your reports. It's not an automated API integration or data pull. This isn't the end of the world for some publishers, but the data not being real-time is sub-optimal for sure.
Avangate: Avangate isn't what it used to be, but it's still a fairly significant affiliate marketplace that's missing from Affilimate.
Peerfly: Another smaller platform, but contains a lot of merchant offers and lead gen opportunities.
Market Health: Another leading platform for health and weight loss related offers that's missing in Affilimate.
Affilimate Pricing Plans
Affilimate uses a tracked revenue based pricing plan, with escalation points based on how much revenue you take in (as read by the Affilimate system) per month.
There's also integration limits, site limits and a "fair use" pageview limit (per month) for each plan.
It goes like this: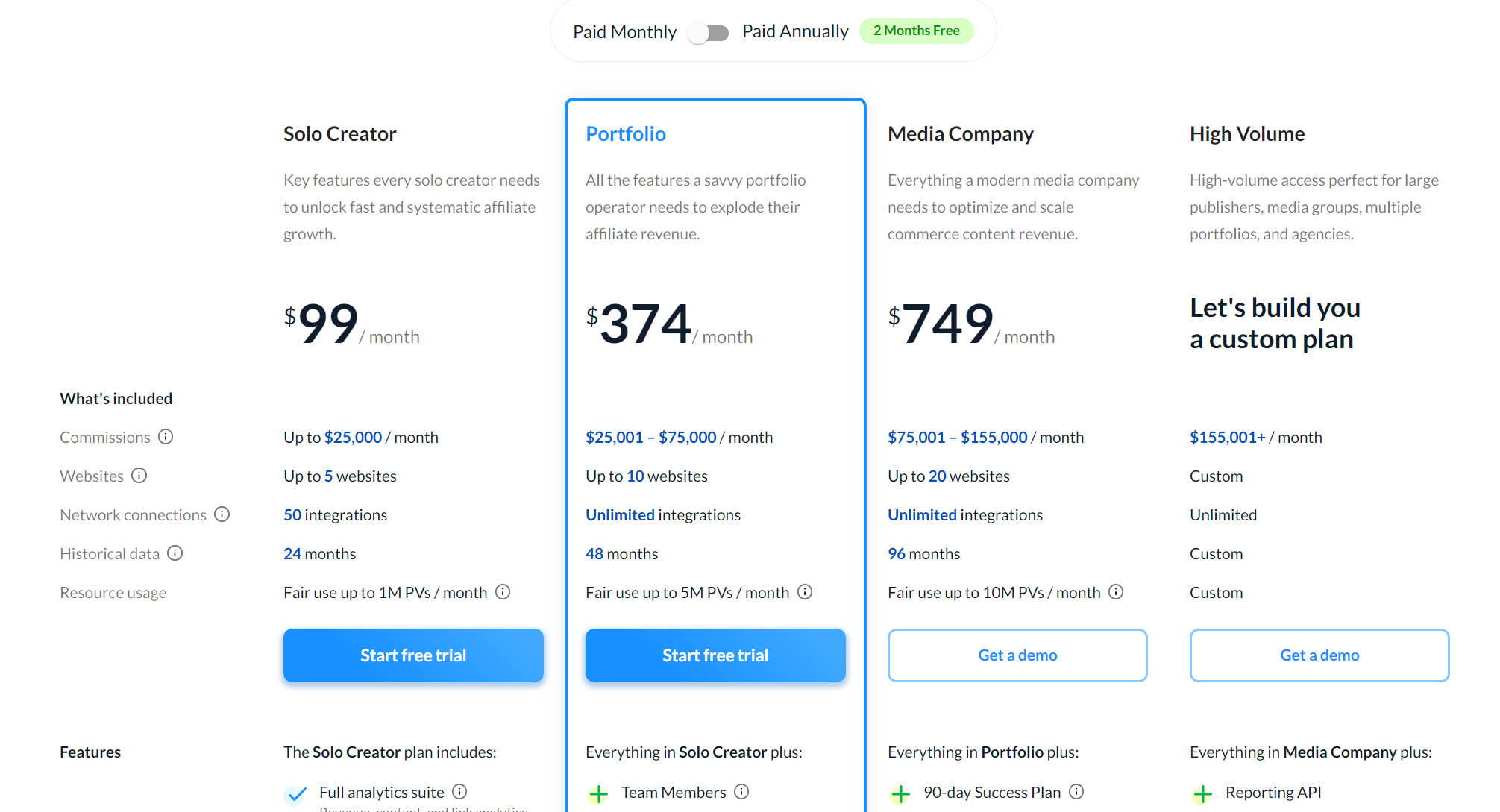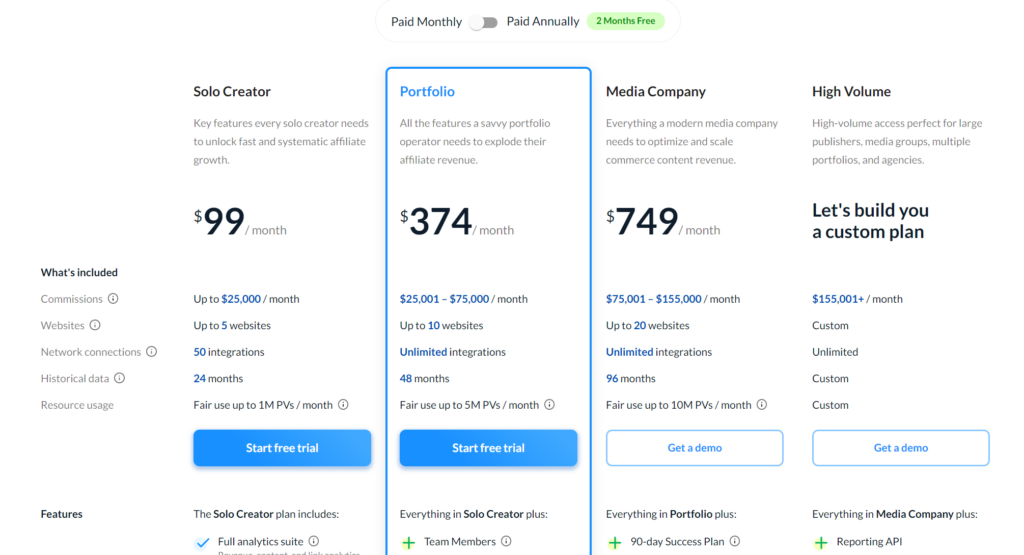 Affilimate Advantages
So where does Affilimate really stand out as an affiliate analytics dashboard?
Industry leading integrations with affiliate platforms (it might not have the most, but it's close to it)
Ability to add site level or portfolio views (summary of all sites)
Useful performance overview reports with relevant data by affiliate, by platform, with rolling averages to compare progress
Includes heat-map tracking (upon request), to see what's working at a page level
Includes page level CTR, conversion, and sales tracking so you can see which pages are contributing revenue (and what is changing over time)
Includes a broken link scanner and out of stock product scanner to recover lost review by fixing broken affiliate links
Also includes content performance tracking with pageviews increase / decrease metrics
NEW: Affilimate recently launched a unified affiliate link builder, which aims to make link building and management EASIER and more secure for teams (only need to log in to Affilimate, syncs with all of your affiliate networks)
Affilimate Disadvantages
Here are some of the things I'm not loving so far with Affilimate:
Doesn't integrate directly with Amazon automatically, you have to manually import your reports (but then in sync's seamlessly
Not as much dashboard customization, filters are somewhat cumbersome to select (lots of tedious re-setting of filters, for example, to get monthly revenue reports over the last 12 months)
Some of the link scanning and heatmapping requests can time out or be a bit buggy sometimes
The pricing plan is complicate with multiple triggers and gates
Affilimate Alternatives & Competitors
So how does Affilimate stack up against it's peers? Even though I personally use Affilimate, I'm closely monitoring the space and have demo'd (or used) many of these solutions in the past. Here's the best near peer Affilimate competitors to consider:
Trackonomics: Trackonomics is the "premium" Affilimate alternative, at least in terms of pricing. I used Affluent for a long time, but switched to Affilimate when Trackonomics when they were acquired by Impact (who also acquired Trackonomics). The main reason was that they migrated Affluent more towards an agency solution and steered publishers towards Trackonomics. I have nothing against Trackonomics and know many of the larger publishers (Recurrent's of the world) use them, however, their pricing tiers are overly complex and technical integrations seem overly cumbersome for what I'm looking for.
Lasso (Performance): I was an early adopted of Lasso when it first launched as a WordPress link management and CTA builder suite (highly recommend). They recently rolled out "Performance" which aims to integrate analytics and reporting for a relatively low cost additional monthly fee. I've started running Lasso Performance in parallel to Affilimate since it's not much additional marginal cost. Long term, Lasso may be able to provide the most compelling value proposition, at least for WordPress publishers.
Strackr: I've also previously used Strackr and it's a decent, more affordable option compared to Affilimate. However, it's strictly a unified affiliate dashboard analytics view and doesn't have extra features or product suite like
Clickwire: I haven't tested this one yet, but it's "coming soon".
Is Affilimate Worth the Money?
The short answer: Yes! If you don't currently have ANY unified affiliate dashboards, Affilimate is a huge game changer.
The longer answer: If you have more than 5-6 different partner networks and 10+ active affiliate brand partnerships, Affilimate is probably worth the cost in exchange for the data visibility you get. That said, if you are just starting out and/or only really make money from a few partners, it's probably not worth the time saved from checking into these accounts.
Affilimate is constantly adding new features, so I fully expect to be updating this review as they continue developing. Right now Affilimate is in the top tier dashboards, sandwiched between a usually too expensive and complex Trackonomics and some under powered alternatives.
The only real competition here is Lasso Performance (only for WordPress users though). If you already use Lasso for link management, Affilimate might not be worth the money.
Further Read: Best Affiliate Marketing Plugins for WordPress.