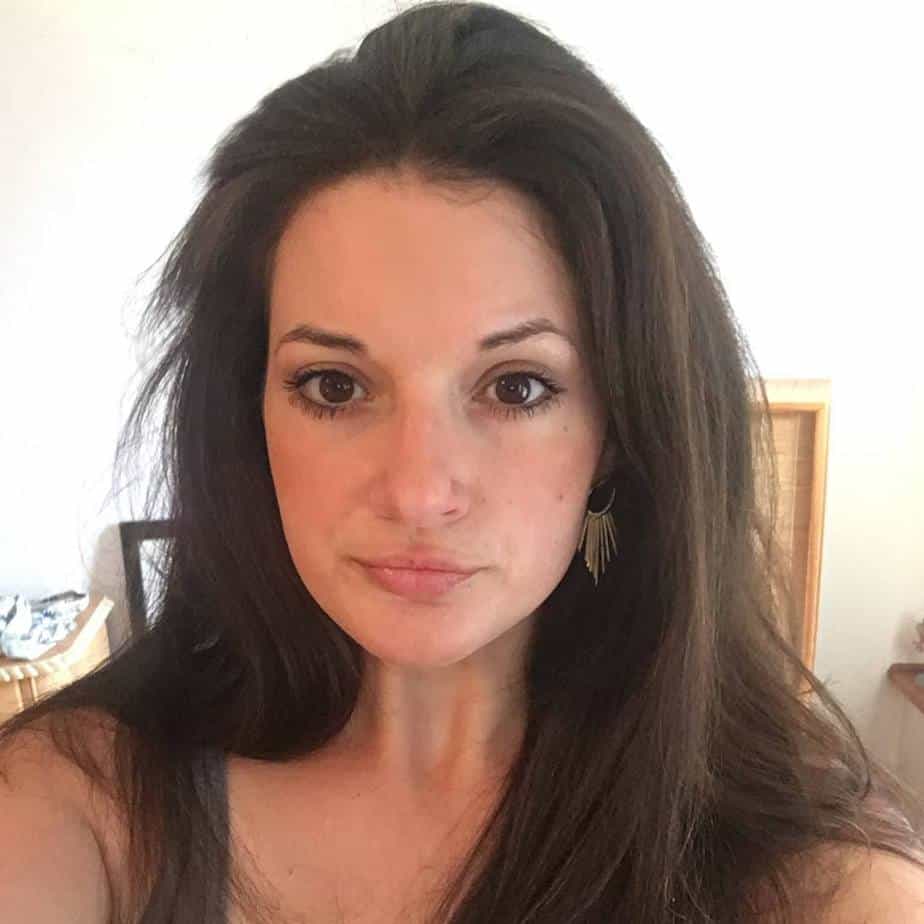 Latest posts by Lindsay Pietroluongo
(see all)
The Home Depot is one of the world's leading home-improvement retailers, and with the company's affiliate program, you can take advantage of its enormous customer base and inventory. Joining the program is free, and if you're accepted, you'll be able to promote all sorts of home goods and home improvement materials to your audience.
With The Home Depot affiliate program, you'll make money when qualifying products are purchased via the company's website, homedepot.com. The more you can encourage customers to buy, the more money you'll make.
In this article, we'll get into the application process, how you can earn a commission and when you can expect to be paid.
Who Can Join The Home Depot Affiliate Program?
There aren't any guidelines for the type of website that can apply for the affiliate program, but The Home Depot does have the right to refuse an applicant's (or website's) membership. Also, they can revoke affiliate membership at any time. So, even if you're accepted to the affiliate program and are effectively promoting products that lead to sales, it's possible that you could be removed from the program at some point.
You must have a website to apply to the program, too. Even if you carry out most of your affiliate marketing elsewhere, like on social media, you still must have a site to apply and be accepted.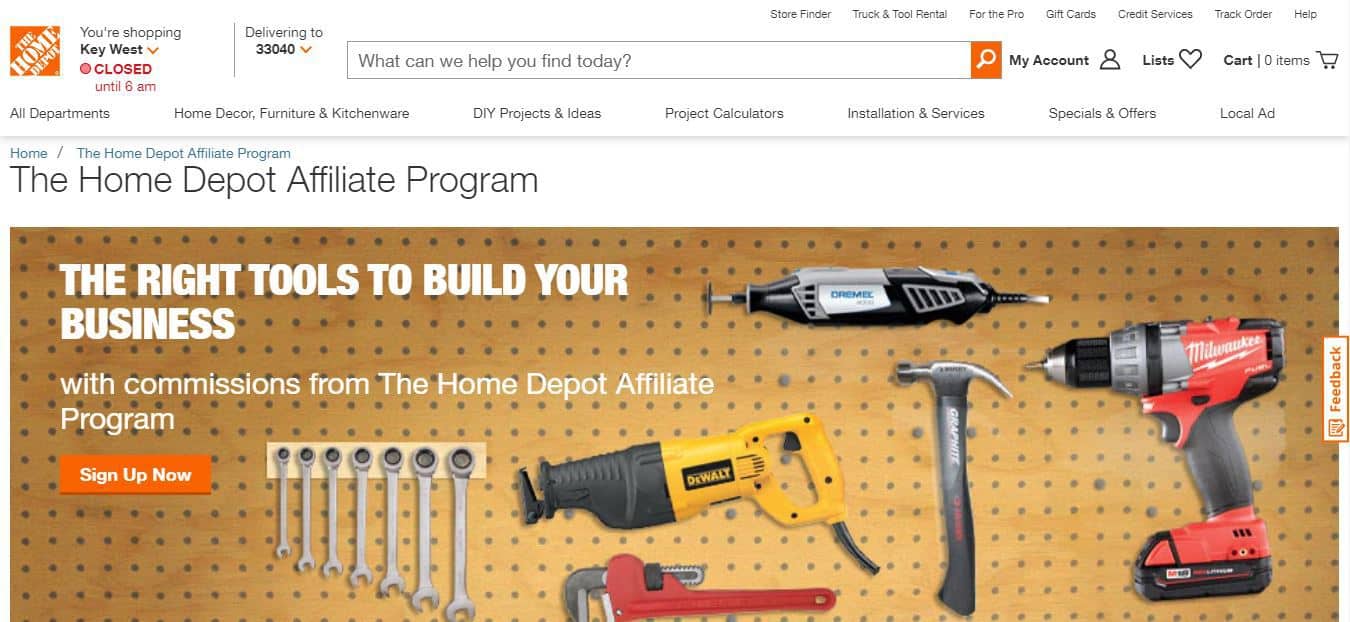 Impact Members
If you're already an Impact member, then you already have access to The Home Depot affiliate program. You can log in to your Impact account and apply to The Home Depot's affiliate program that way.
Multiple Websites
If you run more than one website, you can promote The Home Depot affiliate products on multiple sites – you don't have to pick just one to participate in the affiliate program.
However, it's a good rule of thumb to only promote affiliate products to an audience that will get used out of them. Promoting products that your audience doesn't find useful is a good way to lose their trust. You may get a sale here or there, but ultimately, you'll lose much more than you gain.
International Websites
Websites that are based outside the United States are welcome to join The Home Depot affiliate program, but it's important to know that homedepot.com ships only to the continental U.S. Some products can also be shipped to Alaska and Hawaii.
If you're interested in the Canadian affiliate program for The Home Depot, you can find out more information at homedepot.ca.
Getting Started With The Home Depot Affiliate Program
It's pretty easy to get started as an affiliate for The Home Depot. Just fill out the application form and sign up via Impact.
The application form is straightforward. You'll enter the following information:
First and last name
Email address and confirmation
Username (minimum of six characters)
Password and confirmation (minimum of eight characters, including one digit and one symbol)
Display name
Website address and information
Address (country, street address, city, state, and zip)
Phone number
Timezone
Country where your bank is located
Currency
Promotional methods you'll be using (for example, coupons/deals, email, influencer, etc.)
Countries you'll be promoting in
At the bottom, the application also has rules and guidelines that you should read through. This way, you'll know exactly what to expect as an affiliate, and you won't get into any hot water by breaking a rule you didn't know existed.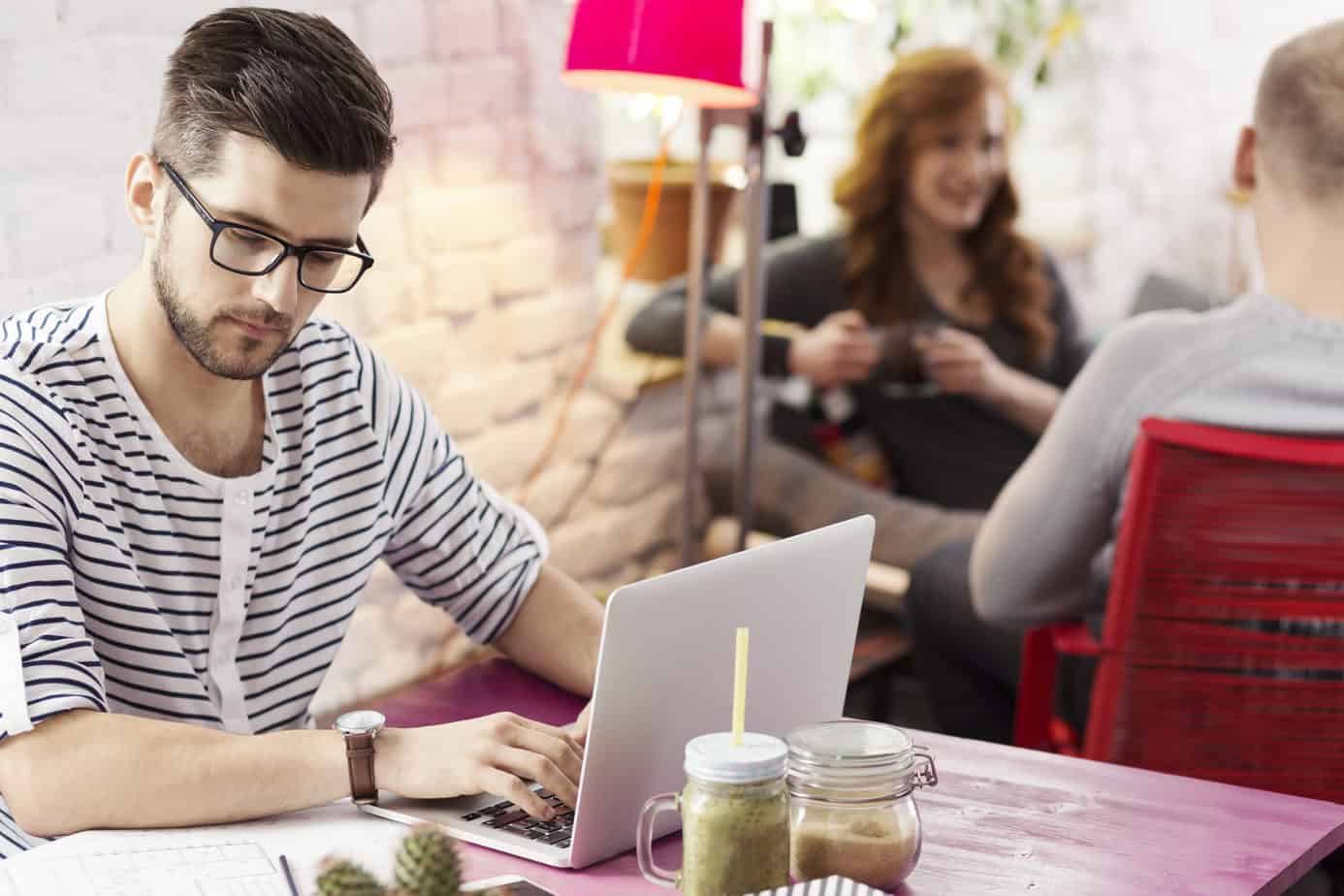 Once you've filled out and submitted the application, you'll be contacted by The Home Depot about whether or not you've been accepted into the program.
Earning Commissions With The Home Depot Affiliate Program
There are hundreds of thousands of items from homedepot.com that you can market to your audience, and the fact that shoppers can get free shipping just sweetens the deal. And if customers would prefer to pick up their order in-store, they can have it shipped there instead.
If you need help when it comes to affiliate marketing, you'll be able to utilize The Home Depot's team of affiliate managers, who will show you how to maximize conversions and sales to earn more. There are also tech experts who can help you if you have an in-depth question about the tech side of affiliate marketing.
Commission Percentage
When a customer that you send to homedepot.com via an affiliate link makes a purchase, you'll get 1% or 8% of the sale. Note that a qualified sale isn't declined, canceled, or returned.
How much you'll make per sale is based on the type of product purchased:
Appliances: 1% of the sale amount
HD Home: 8% of the sale amount
Other: 1% of the sale amount
Appliances may be microwaves, refrigerators, coolers, ice machines, carpet cleaners, and similar items. HD Home products include coffee makers, stand mixers, woks, popcorn makers, electric kettles, etc. According to their FAQ page, the Other category includes "products, mobile, and buy online pick up in-store orders."
What isn't eligible for a commission? Gift cards, installation services, custom products, in-store purchases, and certain special orders.
Cookie Duration / Referral Period
The cookie duration (also called the referral period) is only one day, which is pretty short. That means that the customer has to buy an item from homedepot.com within one day (24 hours) of clicking the affiliate link. If they buy after that time period, you won't get a commission from the sale, even if they used the affiliate link when shopping.
Payments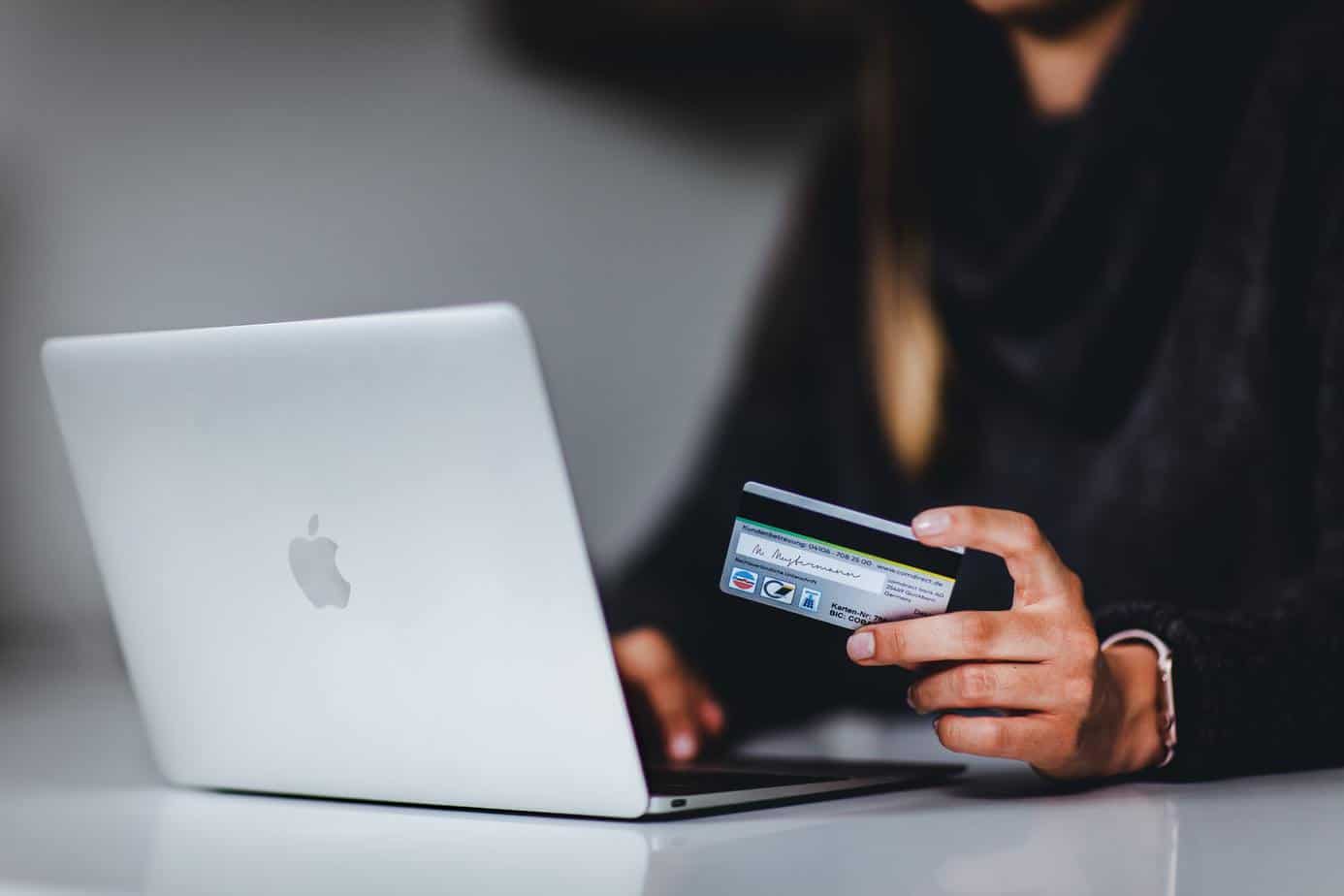 According to the terms and agreements on the application, an action is "locked" one month and 15 days after the end of the month that the sale is tracked. So, if you refer a person who purchases on January 1 (or any time in January), it seems that the action will be locked around March 15. That's one month and 15 days after the end of the sale month (January).
Payout occurs 15 days after the lock day. So you won't be paid for that January sale until the end of March. That's a long time to wait for your payout. However, after that initial payout period, you could be on a more normalized payment schedule, assuming your sales are frequent enough. While you'll still have to wait a long time for your latest commissions to come through, the idea is to have sales occurring enough so you're getting paid quite often.
Their FAQ page paints a slightly different picture regarding the payout schedule, and you may be paid faster following a sale. The Home Depot says that payments earned the previous month are processed around the 20th of the month and paid via check or direct deposit "shortly thereafter." That means that if an affiliate sale takes place any time in January, your commission will be processed by February 20 and then paid a bit after that.
Whatever the case is for when you get paid – on the shorter or longer side – the reason it isn't processed until the month(s) after the sale is that this gives The Home Depot time to verify the sale. If the transaction is a duplicate, the credit card payment doesn't go through or the customer returns the item, you won't get a commission. The company needs time to see if any of those things will happen before they verify the sale and pay you.
Checks will be issued for a minimum of $100, so when you're just getting started with the affiliate program, it may take you a while to reach that threshold so your check can be processed. Direct deposit payments are a bit more forgiving, with a lower threshold of $50 for a payout. If you don't meet the threshold by payment time, your earnings will continue to carry over month-to-month until you have enough earned and it's time for their regular payout (sometime after the 20th of the month).
Note that payments are processed in USD. If you pick a different currency when applying to the program, USD will be exchanged for that currency to pay you.
Using Impact to Manage Affiliate Campaigns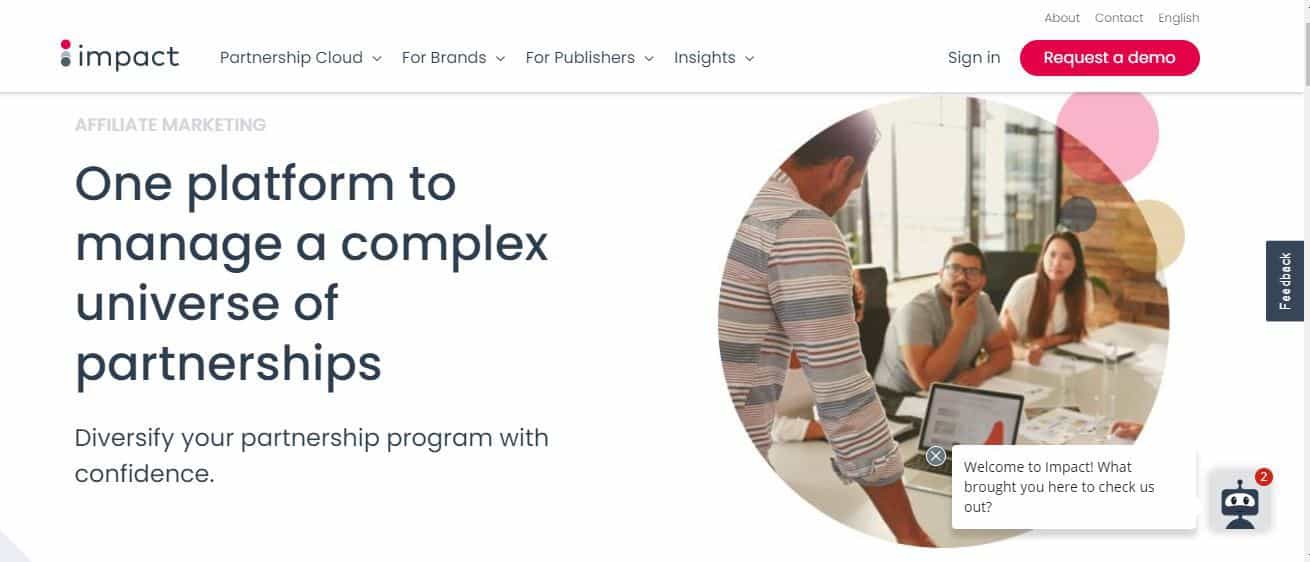 The Home Depot affiliate program uses the Impact marketing platform to handle your affiliate campaigns. You'll be able to track, report, and get paid via Impact, which is transaction-monitoring software that gathers all the information you could want about your sales.
Through Impact, you'll also be able to access the text links and display banners you'll use to market products, and you'll be able to find buyer and project guides to help out your audience even more. After all, the more information you can provide customers, the more comfortable they'll be with moving forward with a purchase, and the more money you stand to make.
FAQ
Question: Will joining The Home Depot affiliate program increase traffic to my website?
Answer: Not directly. The purpose of an affiliate program is to direct your traffic to the brand's website so customers can make purchases and earn you a commission. The brand doesn't promote your website in any way. However, since you'll be provided with content that you'll use to enhance your site, it could be more appealing to users, which may have a positive impact on traffic, especially when it comes to returning users. And if the word gets out that you have a great website where you promote excellent products, you may get more first-time visitors, too.
Question: What does The Home Depot pay affiliates?
Answer: For qualifying orders, which include completed, un-returned online orders (with the exception of things like gift cards), The Home Depot affiliate program pays between 1% and 8% of the sale. Most products pay a 1% commission, but certain home products, like coffee makers and similar items, pay an 8% commission.
Question: How do I start affiliate marketing with no money?
Answer: If you have a very small budget, you can still get started with affiliate marketing. The minimum that you'll have to pay is for a domain name (which can be as low as $5 or less per year) and a web host, which can cost just a few dollars a month. Since most affiliate programs are free to join, you can start building a website and growing your audience without investing any money into your budding business.
Wrapping Up
The Home Depot's affiliate program is an excellent option for bloggers and website owners who cater to a home-focused audience. And since The Home Depot has such a wide range of products, that can really mean so many things:
College students or first-time apartment-dwellers looking to decorate on a budget.
New homeowners who are outfitting their home in their style or getting ready for a pet or baby.
Professional contractors or interior designers.
DIY lovers who want to dive into projects at all price ranges.
Tech-savvy shoppers who want to trick out their homes with smart products.
Basically, if your audience loves anything home-related, The Home Depot's free affiliate program is a great one to join. And if you promote the types of products in their HD Home line, you can make out with some really high commissions.
The only real drawbacks are that the cookie lasts for just one day and that homedepot.com doesn't ship outside the U.S., which limits the audience members who will find those suggestions useful. But if you're able to convert visitors fast and your audience is primarily U.S.-based, you won't find either of those limitations to stifling.
Want even more ideas for promoting affiliate products? Check out our list of the best home improvement affiliate programs out there.