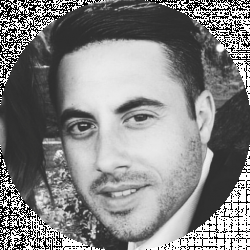 Latest posts by David Borgogni
(see all)
Joining one of the best high ticket affiliate programs will give you the chance as an affiliate marketer to make thousands of dollars in monthly passive income due to the high payouts that some affiliate programs offer.
A lot of affiliate programs pay quite low monthly commissions and you may need to make a lot of sales to create a significant amount of money. With some of the high-ticket affiliate products that we have chosen, you can generate a high level of income from just a few referrals.
We are going to outline the best high ticket affiliate programs, their pros, and cons, and find out which one is the best to sign up for.
At a Glance: 10 of the Best High Ticket Affiliate Programs in 2021
| | | | | |
| --- | --- | --- | --- | --- |
| High Ticket Affiliate Program | Commission | Cookies | EPC | More Info |
| Kinsta | Up to $500 and recurring commission | 60 days | Unknown | Find out more |
| Fiverr | Up to $150 | 30 days | $7.09 | Find out more |
| Gusto | $100 per sale, $50 per lead | 120 days | $131.65 | Find out more |
| WP Engine | $100 per referral | 180 days | $100.42 | Find out more |
| Liquid Web | $150 – $7,000 per sale | 90 Days | Unknown | Find out more |
| The Six Figure Mentors | Up to $8000 per sale (and two-tier commissions) | Lifetime | Unknown | Find out more |
| Embroker | $250 per lead | 90 days | $142.42 | Find out more |
| Luxury Card | $405 | 30 days | $1.68 | Find out more |
| Capitalist Exploits | 50% | 365 days | Unknown | Find out more |
| ClickFunnels | 40% (5% second-tier commission) | Lifetime | Unknown | Find out more |
Things to look for in a high ticket affiliate program
Before we dive in and get to the details of these high-ticket affiliate programs, here are some things you should look out for first.
Cookie duration
When someone clicks on your affiliate link, a small tracking cookie file is placed on their browser. This allows the affiliate program to identify you as the referrer and means when someone completes an action, you get paid a commission.
The cookie duration varies a lot between different affiliate programs. Some affiliate programs will be very generous with their cookie duration, and you might have 60 days, 90 days, or even much longer to complete a sale. Other affiliate programs may not be as generous and limit the cookie duration to just a few weeks.
The longer the cookie duration, the longer you have to convince someone to complete whatever action is required for you to earn money.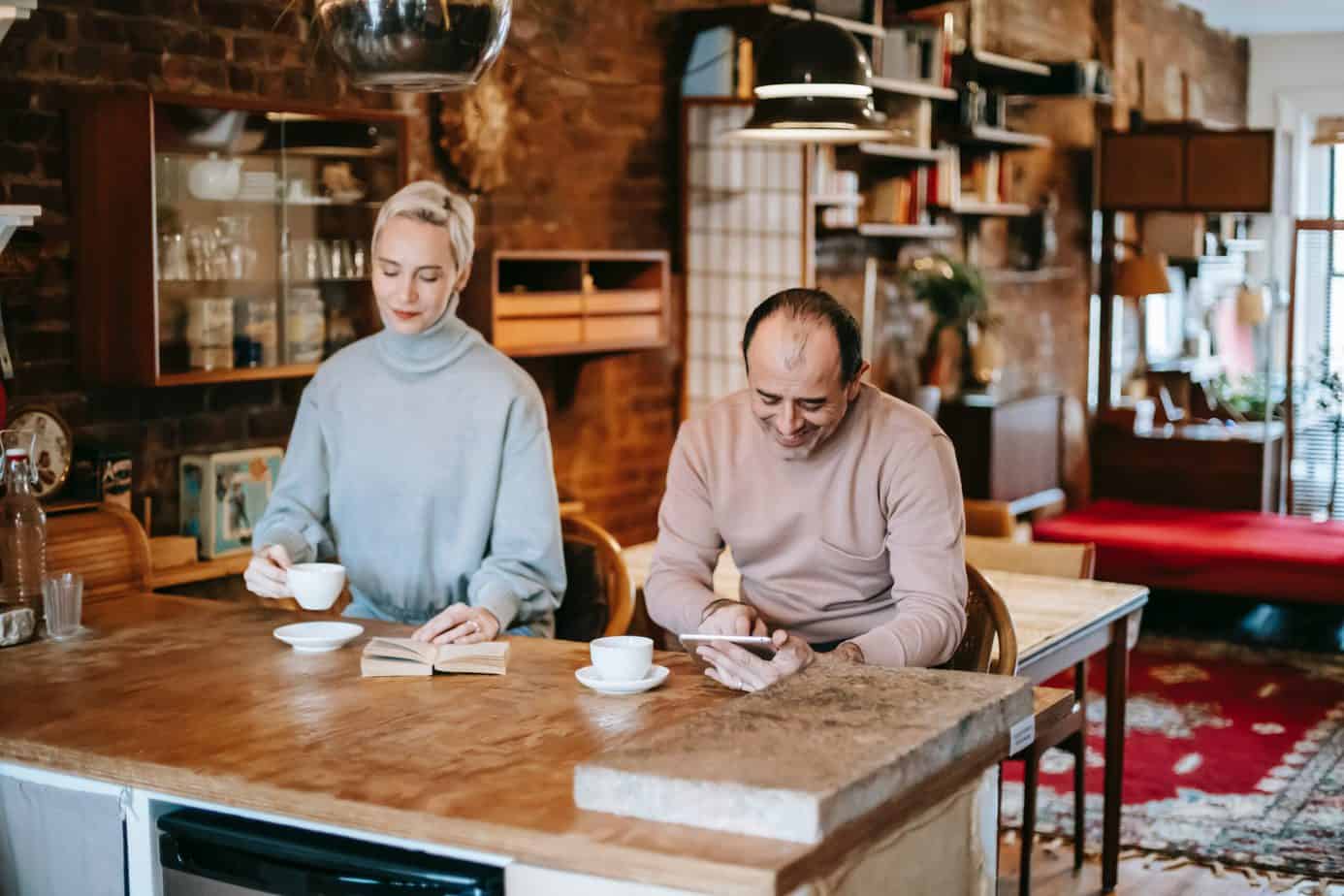 Commission rate
The commission rate that you get paid as an affiliate is generally the main thing most people search for before signing up.
This rate is how much you get paid when someone clicks on your affiliate link and completes the desired action. The commission rate can vary a lot between affiliate programs; however, all the high ticket programs we will list below pay way above the average rate for affiliates.
EPC
You may have seen someone called EPC mentioning a lot with affiliate programs. EPC stands for Earnings Per Click.
It relates to the average amount of money you earn for every click on your affiliate link. EPC is often calculated as a network average, and it is a good indication of how popular a product or service is and if you should promote it as an affiliate.
Quality of the products and services
Finally, the quality of the products and services you will be promoting through a high ticket affiliate program is essential too.
While a product that lands you $1000 commission per sale sounds fantastic, is it necessarily worth the effort to market this product if it isn't of good quality? It might be better to choose a product or service that pays a lower commission but will be easier to convince people to buy.
Alongside the longevity of the tracking cookie, commission rate, and EPC, the quality of the products you promote is vital to earning money through affiliate sales.
10 Best Personal Finance Affiliate Programs
1. Kinsta
Kinsta offers managed WordPress hosting and, by signing up for their affiliate program, you can earn a good commission.
They are pretty expensive from a hosting perspective, but the target market is very much individuals and businesses who have outgrown their shared hosting platform. Kinstra delivers one of the best hosting services, and by promoting their services, you can earn up to $500 per sale.
There is a good chance of making recurring lifetime commissions at 10%, while the 60-day cookie duration is above average.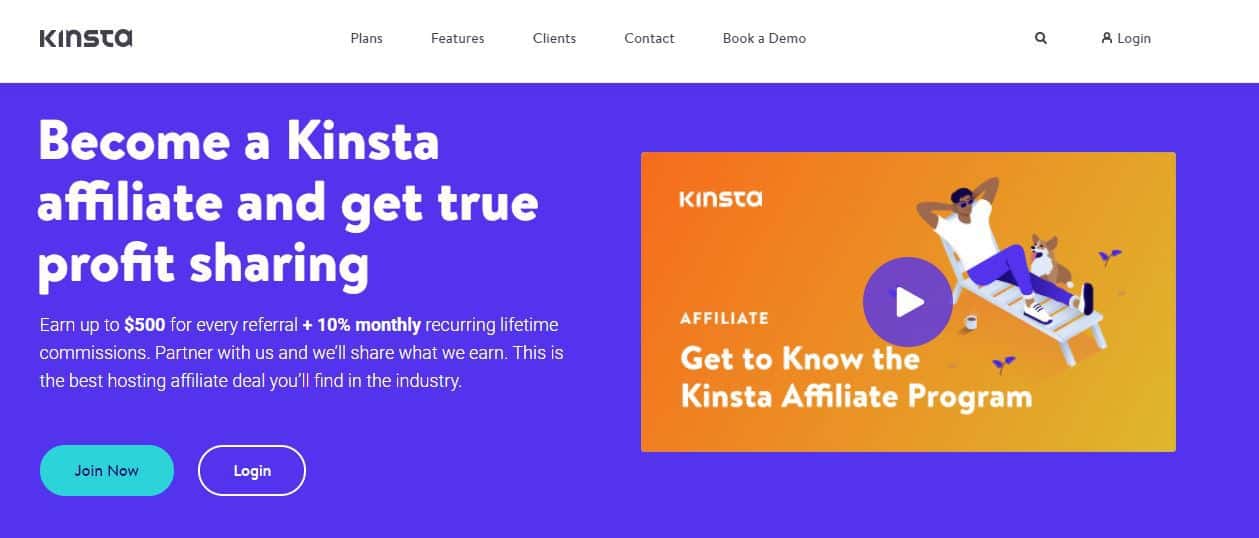 Pros
Very good commission by promoting their hosting services
Chance to make recurring income
60-day cookie duration
Cons
Hosting is expensive, and there are cheaper options out there
2. Fiverr
You perhaps wouldn't think of Fiverr being a high-ticket affiliate program as the basis of their business is promoting budget freelancers. However, with the change to remote work for many people, services like Fiverr are growing.
As an affiliate, you can make $150 per referral if they sign up for their Pro Services package.
By promoting their platform and targeting the growing audience who are turning to remote work and the freelance economy, this represents a good opportunity to generate high income as an affiliate.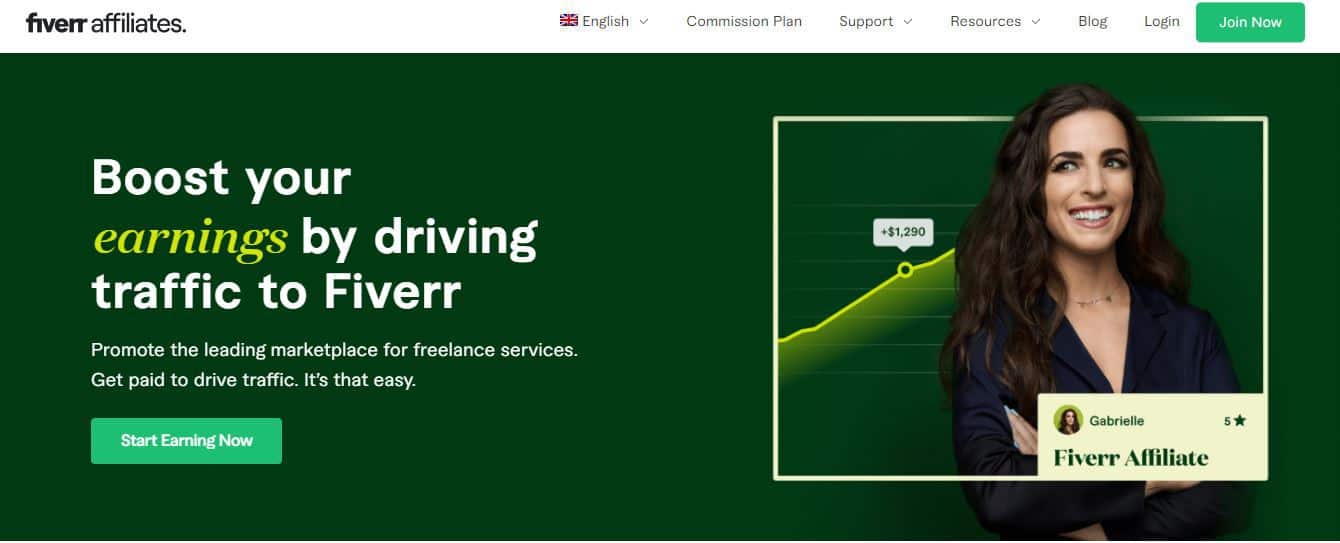 Pros
Growing business with more people turning to remote work
Good commission rate and cookie duration
Can target a wide range of individuals and businesses
Cons
Commissions are based on referrals purchasing Pro Services package
3. Gusto
Gusto is a company that provides HR and payroll services to a diverse range of businesses.
Their affiliate program is becoming very popular, and we like the fact that you get a generous 120-day cookie duration too. You have the chance to earn $100 per sale or $50 per lead from the businesses that you refer to Gusto, and this provides a great chance to promote their services to small and medium-sized enterprises.
They have a tiered pricing structure based on the services required and the number of employees, so the opportunity to sell this to a wide variety of businesses is genuine.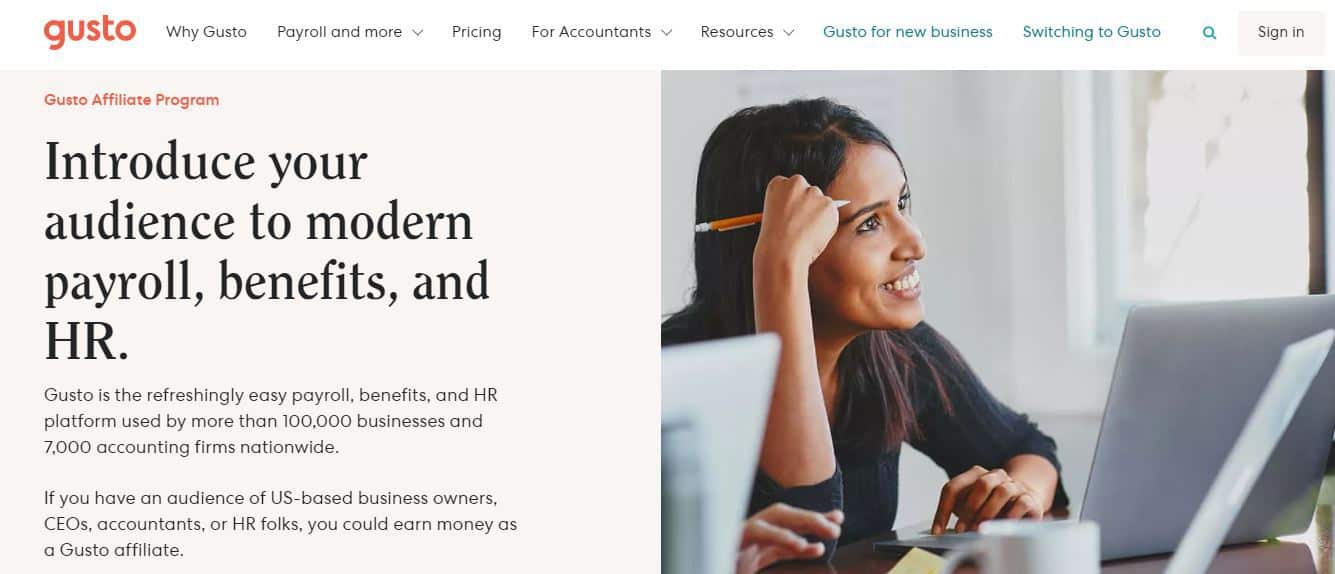 Pros
Decent commission rate and very good cookie duration
Offer various packages for different sized companies
Cons
There isn't any upselling opportunities or second-tier commissions
4. WP Engine
Alongside Kinsta, WP Engine is the other go-to managed WordPress hosting platform that most individuals and businesses turn to.
For anyone who wants to go beyond basic hosting, WP Engine is a great choice, and this gives you endless possibilities to earn affiliate income. Like Kinsta, they aren't cheap, but you do get what you pay for with this hosting platform.
Affiliates can generate up to $200 per referral, and if you make over 60 referrals in a month, you will earn a bonus of $1600. WP Engine also provides a good cookie duration of 180-days which means you have ample time to close a sale.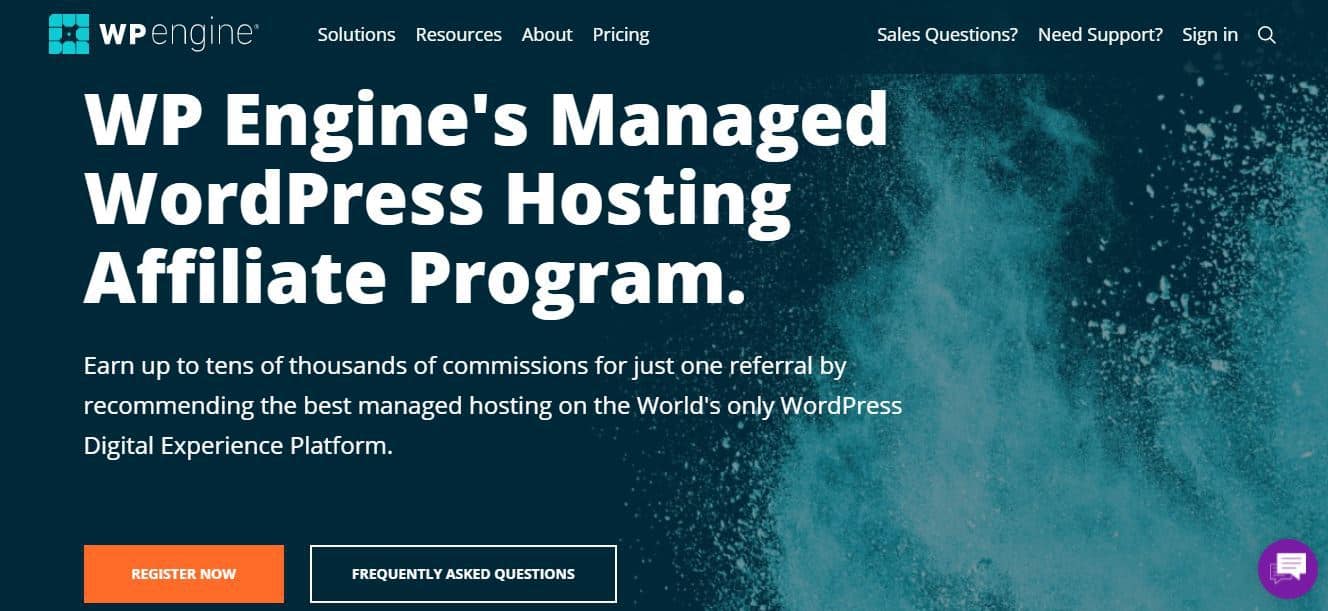 Pros
High-quality hosting services that any individual or business can use
Good commission rates and a great cookie duration
Chance to make big bonuses if you refer enough people
Cons
Hosting is quite expensive compared to other providers
5. Liquid Web
Sticking with our web hosting services, and Liquid Web is one of the most prominent names in the market, considering they have been around since 1997.
This high-end hosting provider gives you a great opportunity as an affiliate to earn up to $7000 per referral, although they will need to spend a lot of money for you to generate this income. That being said, if you refer to people who sign up for basic accounts, you can still earn $150, which is a very decent amount.
With a 90-day cookie duration and the potential for earning a big commission, Liquid Web is a program you should look at if you want to promote hosting services.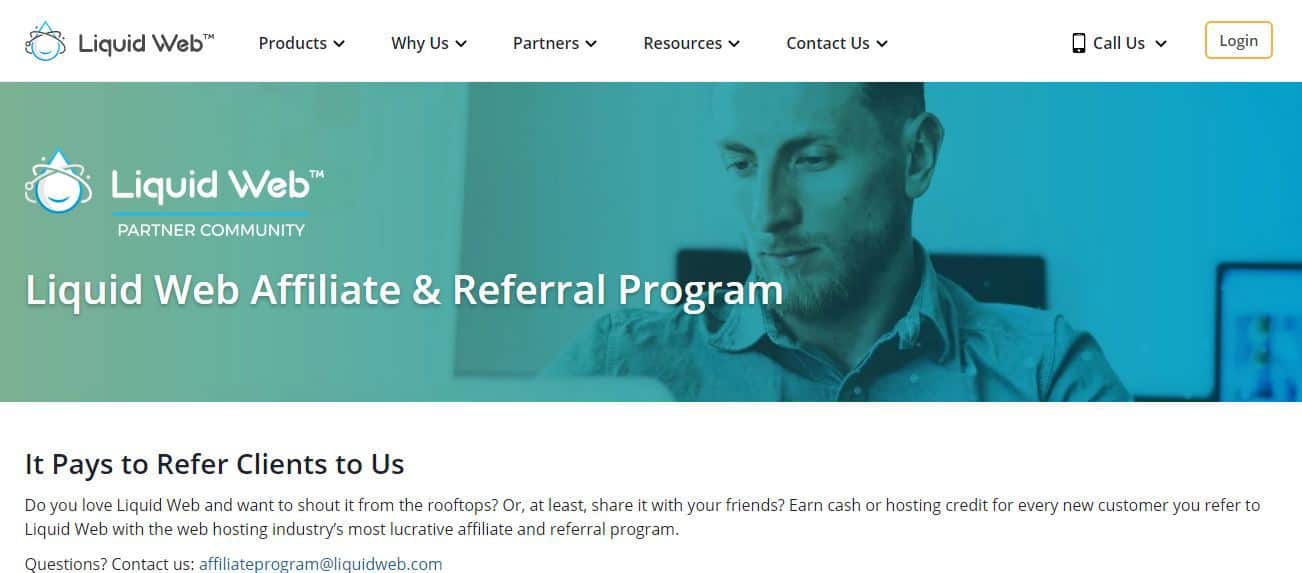 Pros
Potential to make thousands based on one referral
Referrals for basic accounts still offer good payouts
Generous 90-day cookie duration
Cons
You will need to be selective about who you promote this to, as hosting costs will be out of the price range for many people
6. The Six Figure Mentors
This affiliate program is a great high-ticket opportunity as the chance to make up to $8,000 with one sale is legit.
The Six Figure Mentors is a mentoring and training platform with a particular emphasis on affiliate marketing, so you can easily promote this to would-be affiliates. They provide a range of different programs to help people make money online, and with more people turning to this type of work, the audience is there.
You get a lifetime cookie with the Six Figure Mentors and the chance to make recurring commissions as well.
With thousands of training courses on offers, various complete packages, and a potentially massive audience to promote this platform, this is a high-ticket affiliate program that can earn you serious cash.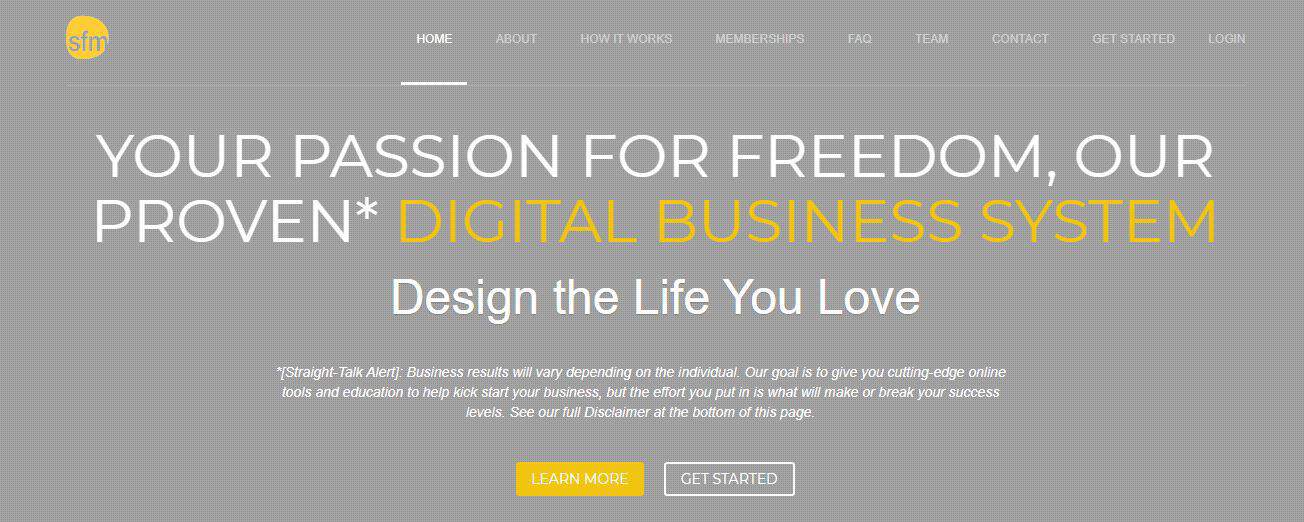 Pros
Very high commission rates and a lifetime cookie
The growing audience for this type of service
They offer thousands of courses, private community, and more
Cons
A costly platform so you will need to really convince people to sign up
7. Embroker
Embroker deals with business insurance, and they use various techniques, including artificial intelligence and machine learning to craft the perfect policies for companies.
Embroker offers a healthy $250 commission per lead with a 90-day cookie window as an affiliate.
If you have the right audience, this can be a very profitable affiliate program to sign up for. They have gone from strength to strength since they were founded in 2015, and Embroker represents a great opportunity to make some great money as an affiliate.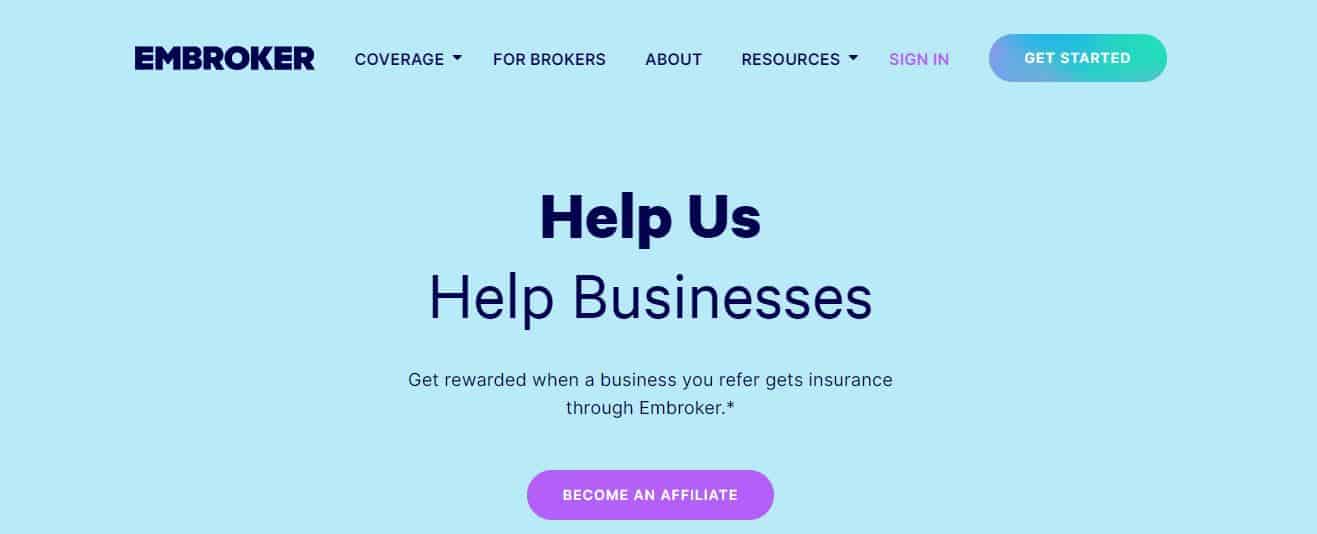 Pros
Business insurance with a difference by using various technologies
Great commission rate per lead
90-day cookie duration
Cons
Targeting the right audience for this program will take some time
8. Luxury Card
Financial services usually offer some of the highest commission rates and Luxury Card is one of those.
They are an exclusive credit card that offers a load of different services beyond what you will find with many run-of-the-mill lenders. This includes bonuses such as air miles, concierge services, and airport lounge access, so you can market a lot of additional things.
There is even a 24 karat gold available, just to add to the exclusive, high-end nature.
Luxury Card pays $405 per referral, which is fantastic. So even though your target audience for this is likely to be pretty small, even just a few referrals can generate a good amount of money.

Pros
Very high commission rate
Lots of addons to promote beyond credit cards
Cons
Exclusive credit card so isn't going to have a wide audience
9. Capitalist Exploits
Capitalist Exploits offer investment advice and research.
The people who run this business have extensive experience in the investment world, so you aren't asking anyone to sign up to a shady platform with no real history.
The chance to make money here is great for affiliates because they provide a 50% commission, which means your earnings per sale will be between $788 and $1750.
This is a solid high-ticket affiliate program that isn't just about selling their products, and they actually offer a lot more, including using their email list to offer some free advice through their newsletter. You might think this is a bad thing in terms of getting people signed up, but once they get a flavor of what is on offer, the chances of converting them increase.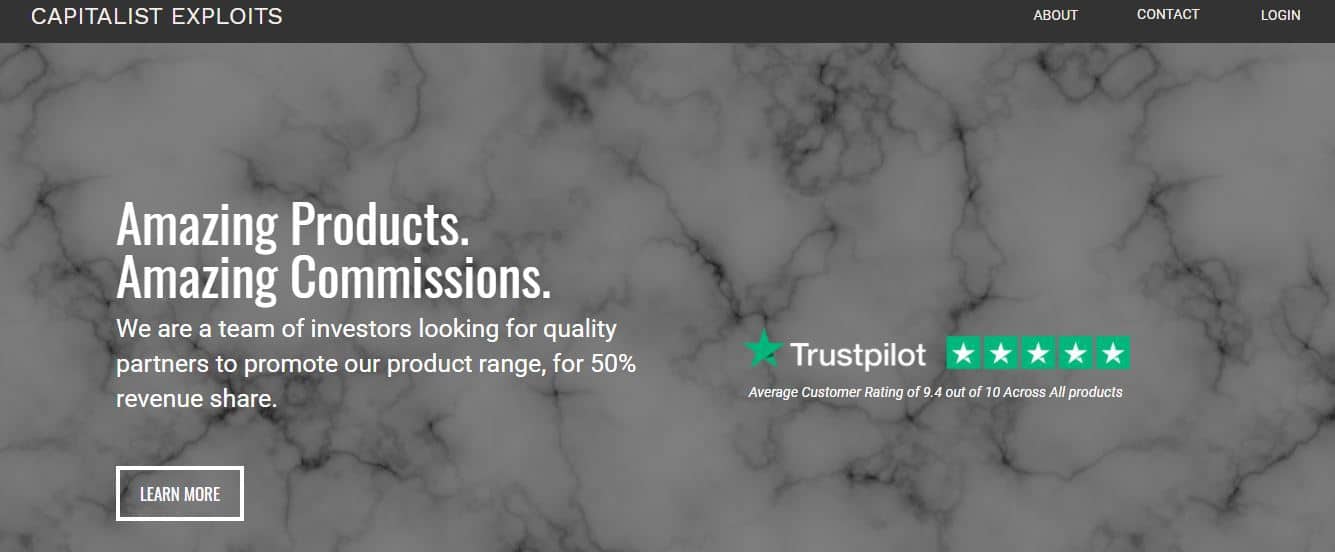 Pros
A high paying affiliate program where you can make a lot of money
Offer a lot beyond their paid services so you can hook people in
The people running it have a proven track record in investments
Cons
Packages are expensive so you will need to target those will a high level of income
10. ClickFunnels
Last but not least, we have ClickFunnels.
This is a platform that lets marketers create effective sales funnels and they offer a generous affiliate program. You can earn a 40% commission on initial sales that can generate between $97 and $297 every month. There is the chance to earn a second-tier commission at 5% and offer additional products that payout at $100 per lead.
This type of market is a bit saturated, so there is a lot of competition, but if you market this in the right way, ClickFunnels gives you the basis to earn good money as an affiliate.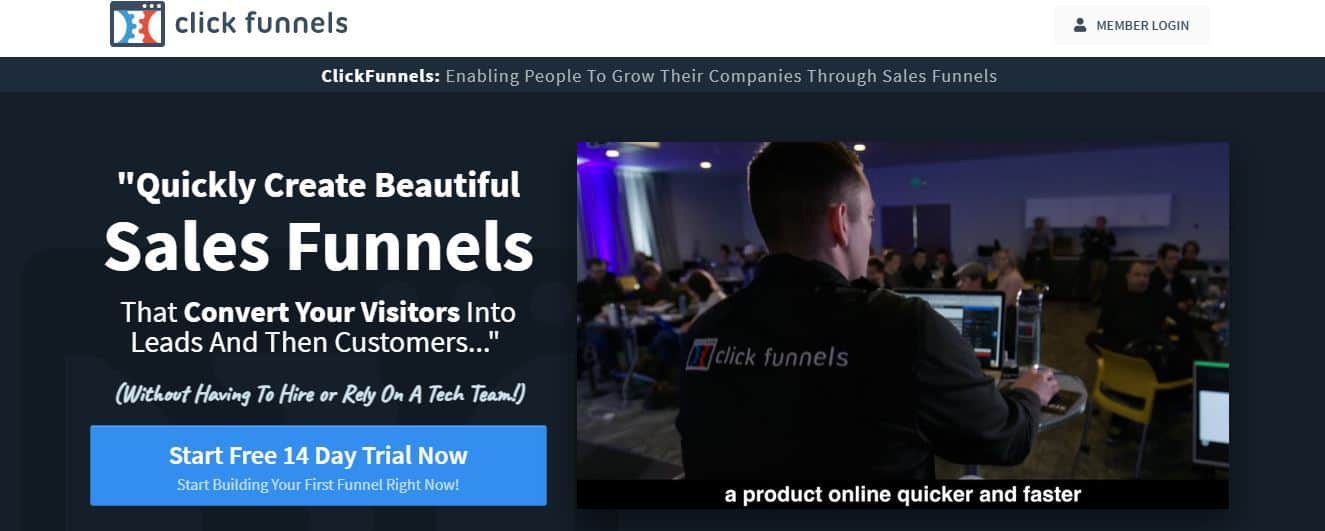 Pros
Good commission rate and offers second-tier commissions
Provide additional products that you can earn money from
Cons
The market for this type of platform is saturated
Frequently Asked Questions about High Ticket Affiliate Programs
Question: Do I need to pay to sign up for a high ticket affiliate program?
Answer: No. All the high ticket affiliate programs that we have listed here are free to sign up as an affiliate. You may come across some affiliate programs that do charge but this is definitely the exception rather than the norm.
Question: What is the highest paying niche?
Answer: There isn't really one niche that you can lock down and say it is the definite highest paying. However, financial services tend to have very high paying offers for affiliates as do online marketing tools.
Question: Do I need to invest a lot of money to earn from high ticket affiliate programs?
Answer: Not necessarily. You don't need to have thousands of dollars to spend, but if you do have spare cash to start marketing these high ticket offers you can potentially make sales and reach a wider audience quicker. However, as an affiliate marketer, you can begin promoting these offers with little capital and still make money.
Question: How am I paid a commission with a high ticket affiliate program?
Answer: It is very much dependent on the program. Some will pay your commissions via PayPal or wire transfer, while others will offer different payment methods.
Question: Is it harder to get approved as an affiliate for a high ticket program?
Answer: Not really. These programs just happen to pay high commissions compared to many other programs, but the actual approval process shouldn't be very different.
Question: Should I care about the cookie duration with a high ticket affiliate program?
Answer: Yes. While the longevity of the tracking cookie that is used shouldn't be your only concern, it is important. This is how long you have to make a sale when someone clicks on your affiliate link.
Which is the best high-ticket affiliate program?
To get the best chance of making a great level of commission with a high-ticket affiliate program, we recommend choosing Kinsta.
Is it the highest paying program on our list? No, others will pay out more money per sale however, with Kinsta you can target virtually anyone that needs a superior web hosting service.
You can also make recurring commissions with Kinsta which is a bonus.
This provides fantastic opportunities to market this to a large number of individuals and businesses, so you can really expand your reach and generate a lot of referrals by promoting this hosting package.
Read more related interesting guides below:
Refersion vs Leaddyno for eCommerce Brands: Which is Better?
Best Two Tier Affiliate Programs To Join