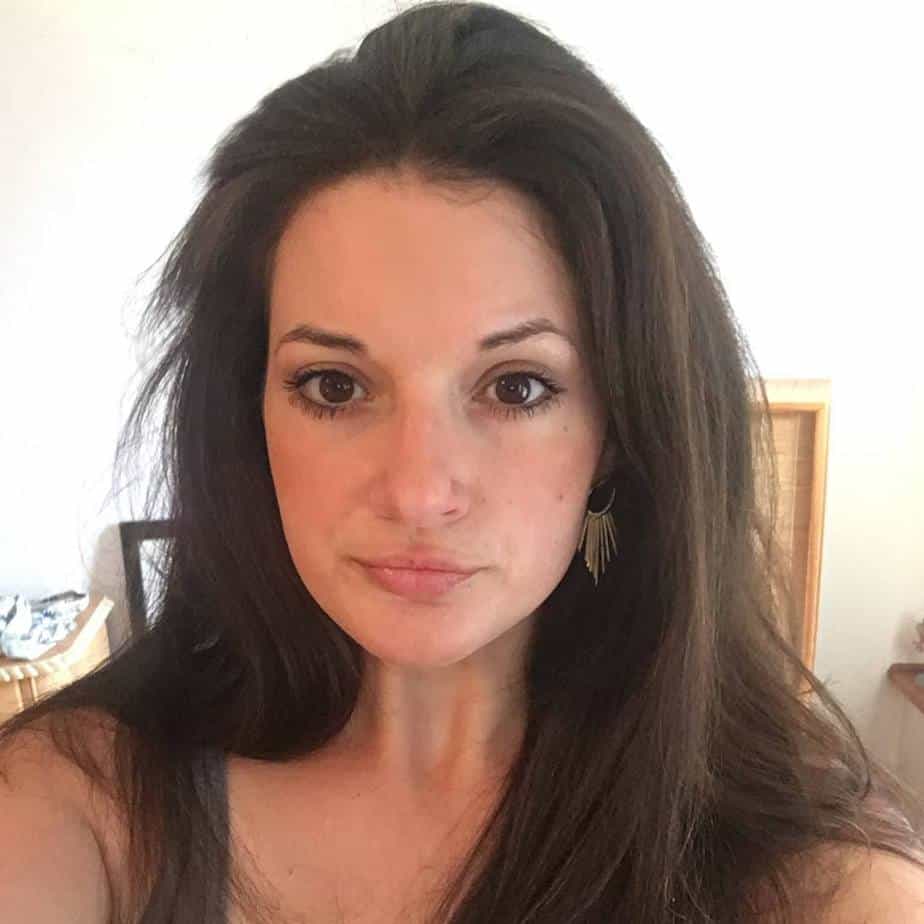 Latest posts by Lindsay Pietroluongo
(see all)
Fiverr is a creative marketplace that has an assortment of professional-quality products and services for brands and freelancers. Pricing starts as low as $5 (hence the name) and can go up to $1,000 or more. Here's just a brief sample of what Fiverr offers in each category:
Brand style guides (Graphics and Design)
Data visualization (Data)
E-commerce product videos (Video and Animation)
Game development (Programming and Tech)
Jingles and intros (Music and Audio)
Life coaching (Lifestyle)
Podcast marketing (Digital Marketing)
UX writing (Writing and Translation)
A virtual assistant (Business)
According to their website, more than 5.5 million people use Fiverr to launch and scale their business, including huge names like L'Oreal and Netflix. Fiverr is available in over 160 countries, too, which means you can promote the platform worldwide.
What is the Fiverr Affiliate Program?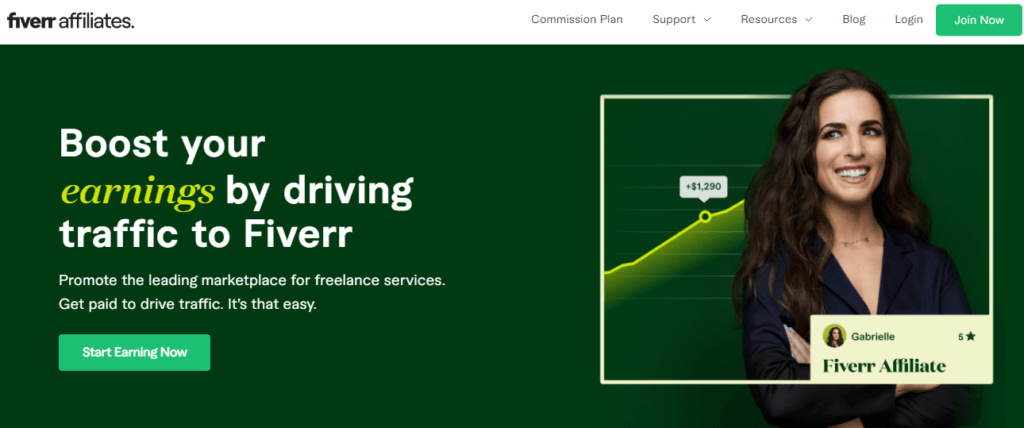 Fiverr Affiliates is a way to earn money by promoting Fiverr and driving traffic to the website. A shareable link will track who moves forward with a purchase after being directed to a Fiverr site by you. You can share and promote those links wherever you want, whether that's your blog, social media, podcast, newsletter, etc. When someone makes a purchase after your referral, you'll earn money.
Who uses the Fiverr affiliate program? For starters:
Content creators
Promoters
Social media influencers
Website owners
That's just the tip of the iceberg, though. Anyone with an audience can find something valuable to promote on Fiverr.
Here's the basic step-by-step process for being part of the Fiverr affiliate program:
Join Fiverr as an affiliate. This is a free program that lets you access things like marketing materials and tools.
Share Fiverr with your audience to promote the marketplace and drive traffic.
Earn money as the traffic converts.
How much you can earn will depend on the commission plan you choose and the products or services you promote. According to the affiliates page, though, you can earn as much as $1,000 for a single conversion in some cases. And since signing up is free, the only thing you have to put in is the work to find and convert Fiverr customers.
The Fiverr Affiliate Program Commission Plans
Fiverr has two main commission plans to choose from. (Note that "CPA" refers to "cost per action.")
Fiverr CPA: You'll earn between $15 and $150 CPA based on which service first-time buyers opt for.
Fiverr Hybrid: You'll get $10 CPA on first-time purchases, plus 10% RevShare for 12 months. ("RevShare" means that you'll get a percentage of the order value.)
To reiterate, Fiverr CPA commissions are only for first-time purchases. If a person who you referred to Fiverr makes their first purchase, you'll get a commission; if they make subsequent purchases, you won't get a commission for that. With Fiverr Hybrid, though, you'll get RevShare for the first 12 months that they're with Fiverr, no matter how many times they make a purchase.
For the Fiverr CPA plan, the CPA ranges from $15 to $150 based on the category the first-time buyer (FTB) purchases from. Here's the breakdown:
$15
Categories not listed elsewhere.
$25
Articles and blog posts (Writing and Translation)
Gaming (Lifestyle)
Illustration (Graphics and Design)
Resume writing (Writing and Translation)
Short video ads (Video and Animation)
Social media marketing (Digital Marketing)
Video marketing (Digital Marketing)
Voice over (Music and Audio)
$30
Business consulting (Business)
Financial Consulting (Business)
Logo Maker (Logo Maker)
Producers and composers (Music and Audio)
Proofreading and editing (Writing and Translation)
Research and summaries (Writing and Translation)
SEO (Digital Marketing)
T-shirts and merchandise (Graphics and Design)
$40
Architecture and interior design (Graphics and Design)
Data processing (Data)
Game development (Programming and Tech)
Lyrics and music videos (Video and Animation)
Web and mobile design (Graphics and Design)
Web programing (Programming and Tech)
Website builders and CMS (Programming and Tech)
$50
Data science (Data)
E-commerce development (Programming and Tech)
Industrial and product design (Graphics and Design)
Mobile apps (Programming and Tech)
$150
All Fiverr Pro services, which you can learn more about here.
More Affiliate Products to Promote
There are other products you can promote, too:
AND.CO: The AND.CO business management suite has everything from online proposals to automated invoices. You can get 50% of every Pro plan.
Fiverr Affiliates: You can get rewarded by getting other affiliates to sign up for the Fiverr Affiliates program. Get 10% of the referred affiliate's earnings … for life.
Fiverr Business: With Fiverr Business, teams can access a workspace to collaborate on freelance projects. You can get $100 CPA when the user's account reaches $100 in spend and also get 10% RevShare for 12 months.
Learn: Learn from Fiverr is an educational platform that lets businesses and freelancers learn important and practical skills from leaders in the industry. You can get 30% off every course ordered.
Is the Affiliate Program the Same as the Referral Program?
While both the affiliate and the referral programs require you to refer Fiverr to others, they function quite differently. You already know how the affiliate program works, so let's quickly go over the referral program.
With the referral program, anyone who uses Fiverr (either to buy products/services or sell them) can refer people they know to Fiverr. In return, the person who refers to Fiverr will receive 20% of the amount of the new user's first purchase. That money can be used as a credit on Fiverr; you don't receive that in cash like you do with the affiliates program.
Another core difference between the affiliate and referral programs is that with the referral program, you don't get the marketing tools and creative collateral that you do with the affiliate program.
The Main Features of the Fiverr Affiliate Program
The biggest feature of the Fiverr affiliate program is that you can choose your commission plan based on your earning preferences and the digital category that best suits your audience. Also, there are all sorts of products and/or services you can promote, letting you tailor the promotions to what's most important for your audience.
Here are a few more benefits of joining Fiverr Affiliates:
There are all sorts of high-quality and performance-optimized creative assets to help you promote Fiverr products and services.
The dashboards are easy to use and intuitive. Just launch, manage and monitor your campaigns.
There's no referral limit – you can earn as much as possible, so long as your referrals continue purchasing from Fiverr.
There's a lot of help for affiliates, including professional support, an affiliate manager, and tutorials.
Becoming a Fiverr Affiliate
Your first step is to sign up for the Fiverr Affiliates program. You can access the signup page here. (After you've signed up and want to access your log in, you can do so here.)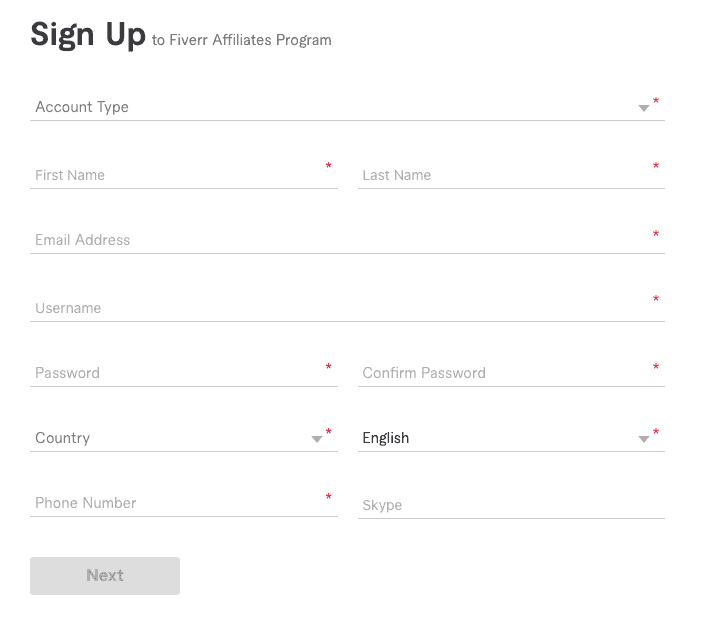 From the Account Details section of your account, click the Sources tab. "Sources" are where you're going to promote Fiverr. For example, you may promote Fiverr on your website, like in blog posts, or on Instagram.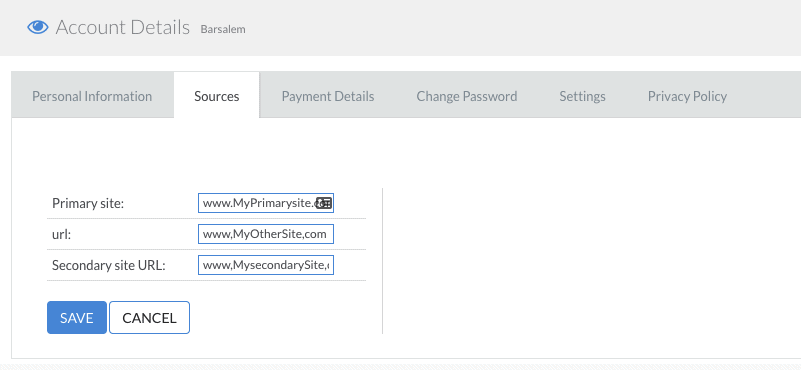 Next, you'll want to go over to the Payment Details tab. This is where you'll enter how you want to be paid, so make sure to fill this in.

Your Affiliate Link Unique ID
Your unique ID will be included in your affiliate link, which is how you track the customers that you bring to Fiverr. The affiliate link you should use is located underneath the BTA parameter. It looks something like this:
https://track.fiverr.com/visit/?bta=[your_affiliate_ID]&brand=andco
The affiliate link has a 30-day tracking cookie. If someone clicks the link and registers with Fiverr within 30 days, you'll get the credit for the referral, and that person will be added to your affiliate account. Then, when they make their first purchase, you'll earn a commission, even if it's several months later.
You can get a lot deeper with affiliate links, too, like creating tracking codes for the different products and services you plan to promote. Get into the nitty-gritty here. In short, though, a "deep link" refers to a link that directs the user to a specific landing page, like one for a particular service on Fiverr.
Selecting Your Marketing Tools
Before we dive into the marketing tools that Fiverr give affiliates access to, know this: You can't use paid ads, like those on Facebook or Google, to send traffic directly to Fiverr. However, you are allowed to drive traffic to your platform using paid ads and then send people from there to Fiverr.
Fiverr has several built-in marketing tools that are available to affiliates, like banners, landing pages, buttons, and other creative collateral. Log in to your account, then choose Marketing Tools, followed by All Marketing Tools. Use the filtering options to find the creative that suits your needs best. You can filter by options like language, size, or creative type. You'll then get a code that you can embed on your site to showcase the piece of creativity you chose.

Monitoring Campaign Performance
There are two main reports that you'll be looking at, and you can access them both in the Reports section of your account:
Media: This is where you'll see tracking information. Select a time range, like the last 30 days, then choose the data you want to see (brand, tracking codes, countries, type of creatives, etc.). Aggregate by day, month, or year, and to get specific metrics, like the performance of a specific campaign, use the filter option.
Registration: This is where your customer information will be, like their registration date, first deposit date, country and total commission earned. Select your required time range, then add parameters, like brand, tracking code, banner size, etc. You can also search for a specific user.
With these reports, you can export them as CSV files if that makes them easier to read.
Getting Paid
You can request a payment at the beginning of the month if your account reached at least $100 during the previous month. Commissions are then paid out on a net 30 schedule, meaning you'll get your money 30 days from when you request it. You can opt to receive payment to your bank account, Payoneer or PayPal.
You can also see a history of your payouts by going to the Payments History sub-menu under the Payments option.
Under Payments History, there's also a Payment Request tab, where you can see details for your last payment request. This is helpful if you don't remember when you requested a payout or how much you can plan to get.
Best Alternatives to the Fiverr Affiliate Program
Fiverr Affiliates may be what a lot of professionals and creators are looking for, but it's not the only option out there. Consider these three alternatives, too.
Amazon Associates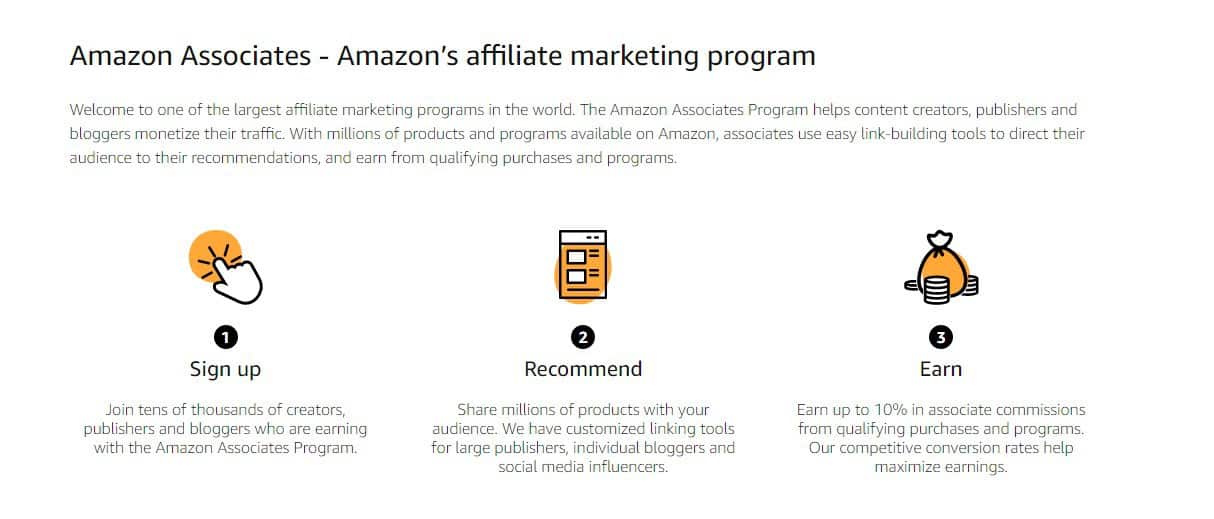 It's going to be hard for any affiliate marketer to pass up Amazon Associates, even if you use it along with other affiliate programs. Since Amazon is one of the largest e-commerce platforms in the world, it makes sense that their affiliate program is one of the biggest of its kind, too.
ClickBank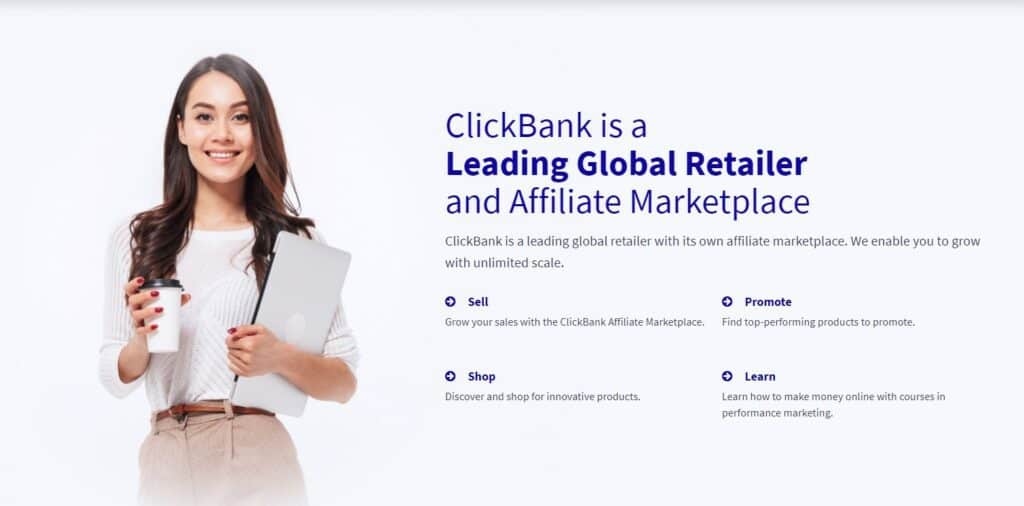 If you're looking for options that go beyond digital or media-related products and services, consider ClickBank. You can promote their products, which range from health and fitness to parenting, and much more. They even have a dedicated "As Seen on TV" section.
Coursera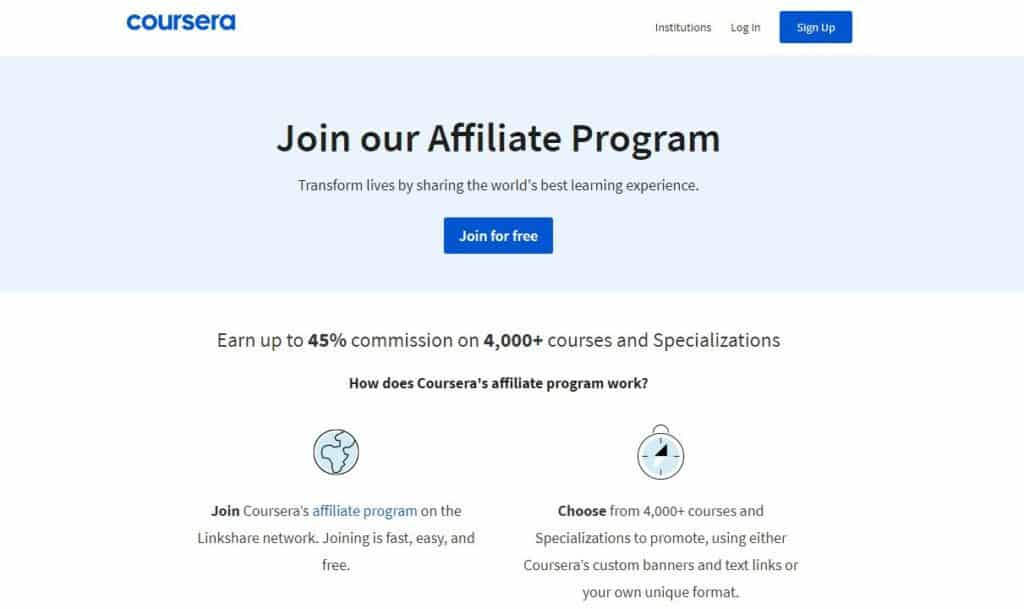 If Fiverr's Learn platform doesn't have enough to offer your education-centric audience, consider a different class-based program like Coursera. Their commission rate tends to be high, which makes up for the fact that their class catalog is a bit leaner than Udemy's, another e-learning platform with an affiliate program.
FAQ
Question: What is an affiliate program and how does it work?
Answer: An affiliate program (which may also be referred to as an associate program) is when a person has an arrangement with an online merchant to promote their products or services and send them web traffic (and, hopefully, customers).

In turn, the promoter makes money, which is called a commission. The promoter may earn a fixed dollar amount or a percentage of the sale. Each affiliate program will have its own guidelines, which will lay out exactly how you make money.
Question: What is Fiverr CPA?
Answer: Under the Fiverr CPA plan, you'll earn between $15 and $150 based on the service that the buyer purchases. This plan only pays out once, when the buyer makes their first purchase. If you want to continue earning for the first year of the person's membership with Fiverr, you want the Fiverr Hybrid plan.
Question: How do I promote my Fiverr affiliate program?
Answer: You can promote your Fiverr Affiliates links in whatever way works best for you – on your blog or website, in your social media posts, through your newsletters, on your podcast, etc. Basically, any way that you create content can be used to promote affiliate links.

However, some find that blogging is the best and most rewarding way to promote affiliate links. Blogging allows you to create SEO-rich content that will attract people interested in the topic, and you can then direct them to Fiverr to buy products or services that are most relevant to them.
Final Thoughts About the Fiverr Affiliate Program
What's so good about Fiverr Affiliates is that you can likely find something to promote that will serve your target audience. There are so many types of services offered through the main Fiverr platform and all of its additional services that it's nearly impossible to not find a match to your audience's preferences. And you can promote those affiliate links however you prefer to deliver content to your audience.
Don't be dismayed by the lowest-earning tier of $15, either. That may not seem like much, but if you can push a lot of low-cost digital products or services to an audience that may have to pinch pennies, those $15 deposits can really add up. And on the other end of the spectrum, if your audience is a bit more willing to shell out money for a great product or service, you could earn quite a bit more from just one purchase.
Do you have other types of products you promote as well? Check out our article about the best furniture affiliate programs worth considering.