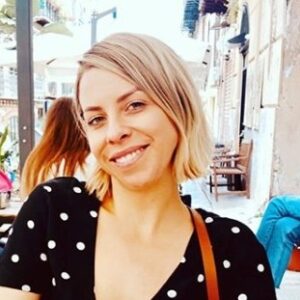 Latest posts by Jodie Chiffey
(see all)
Amazon's decision to slash commission rates back numerous times in the past few years has led us to compile this in-depth review of the best Amazon Associates alternatives for bloggers.
If you have found your affiliate earnings decrease through your blog, or if you are just starting out and want to earn better money from other affiliate networks, we have all the information you need.
We will explore the reasons why you should look at different affiliate networks apart from Amazon, and we will show you the top 10 alternatives with all their good and bad points.
First, let us look at a quick outline of the best alternatives to Amazon Associates.
At a Glance: 10 of the Best Amazon Associates Alternatives for Bloggers in 2021
Reasons to look for an alternative to Amazon Associates
We will demonstrate the best alternatives to Amazon associates later on, but first, let's look at the main reason you should consider an alternative affiliate network.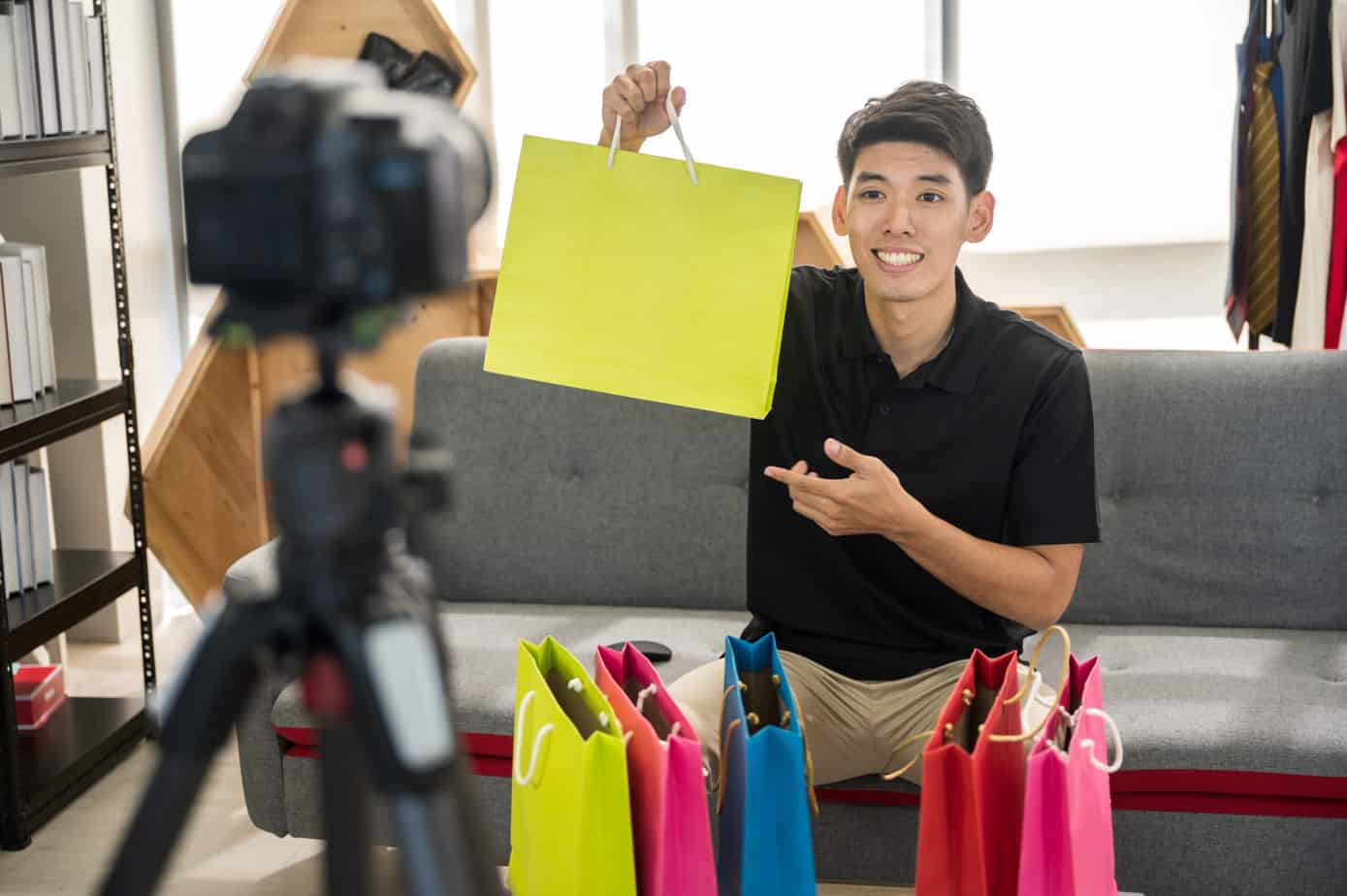 Cookie duration
The cookie duration is how long you have to clinch a sale after someone clicks on your affiliate link.
Say the cookie duration for a health product you are promoting is 30-days; this means that if someone clicks on your link and buys a product within 30-days, you get paid a commission.
The cookie duration with Amazon Associates is very short as it is only 24 hours. This doesn't give you a lot of time to make a sale, especially if the person you refer is in two minds about purchasing the item.
Our list of Amazon Associate alternatives mostly offer longer cookie durations, giving you much more time to earn a commission.
Commission Rate
This is probably the biggest reason why so many people are now turning away from Amazon Associates and looking for other networks.
Amazon slashed their commission rates, so you now earn much less for referring someone through your affiliate link than you used to. In fact, many people say their commission rates slashed by 60%, which represents a considerable drop in monthly income!
The alternative networks that we have listed below offer good commission rates and allow you to make a decent level of passive income.
Diversifying the products you promote
Another reason to move away from Amazon Associates is to diversify the products you actually promote.
Let's not kid ourselves; Amazon is very attractive because it offers a massive variety of products. You can find a lot on Amazon; however, there are certain products and services you won't be able to refer people via your blog to the Amazon website.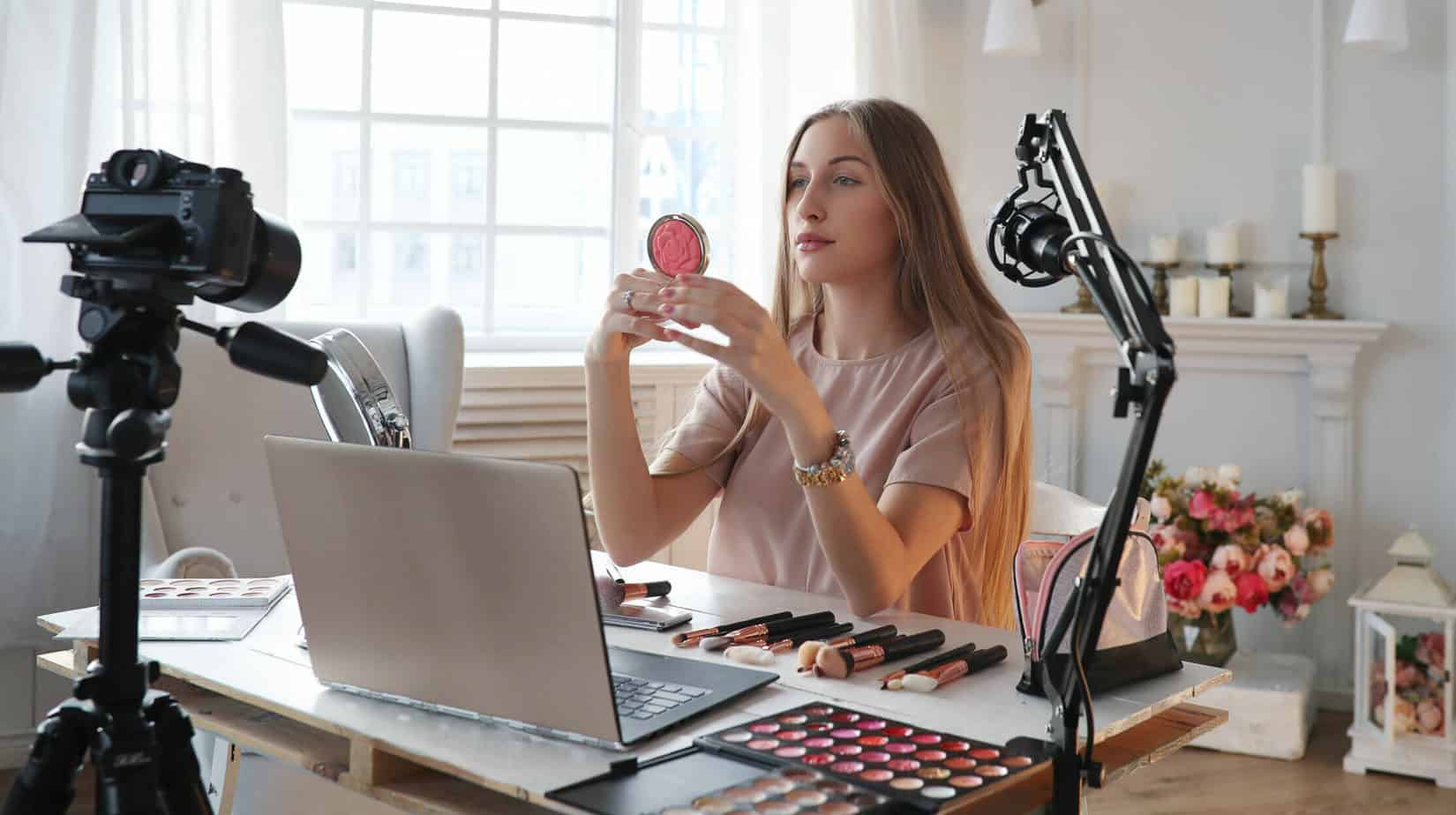 By signing up to different affiliate networks, you can promote a broader range of products in various niches. This is definitely true for certain digital products and guides that aren't listed on Amazon.
10 Amazon Associates Alternatives for Bloggers
1. Awin
Awin – which used to be called Affiliate Window – is a great alternative to Amazon Associates for several reasons.
One is the commission rate that is on offer. With Awin, the commission rate varies between merchants; however, it is usually between 10% – 50%, which is a big leap from Amazon.
They have partnerships with many big brands such as AliExpress, Under Armor, and HP, to name a few. You will also come across many great niche products and services to promote on your blog, and there are over 13,000 merchants you can apply to. The cookie duration of 30 days is pretty good, too, and they even offer quite a low minimum payout of $20.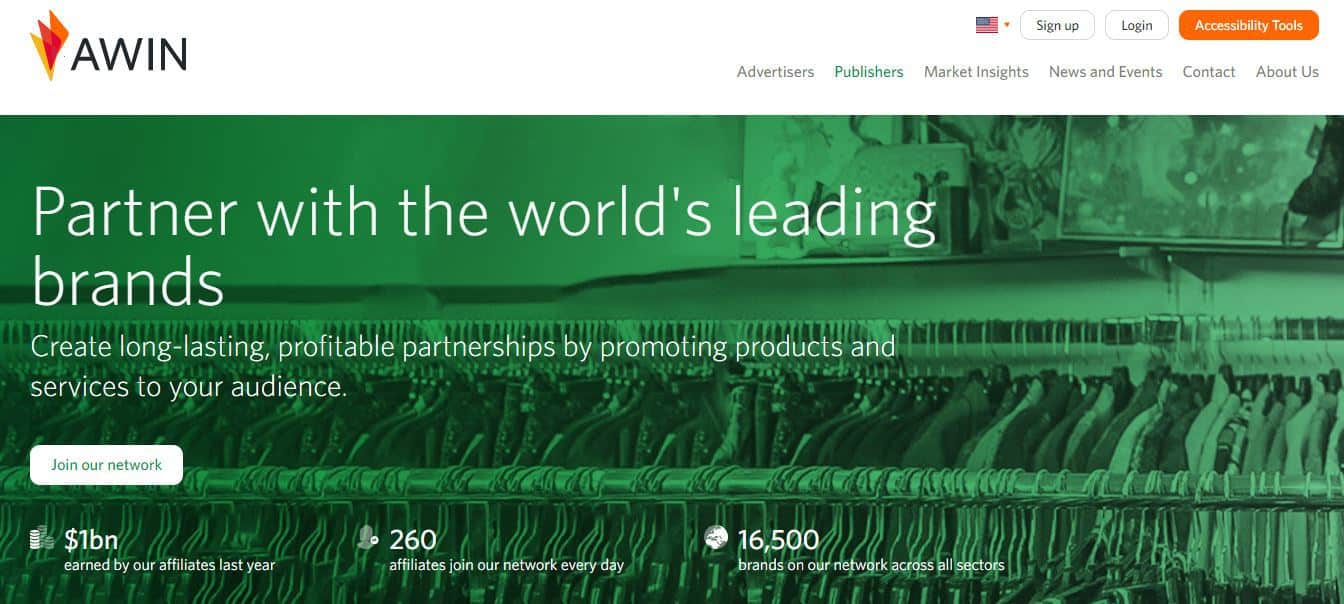 Pros
Has over 13,000 merchants, including many big brands
Low minimum payout so you can withdraw money quickly
Decent commission rates of up to 50%
Cons
You need to pay a $5 sign up fee, but it is refundable if you are approved
2. CJ
CJ – which you may remember was called Commission Junction – also has thousands of merchants that you can sign up for to promote their products and services.
They partner with many big brands (like Awin), including services like Grammarly and retailers such as Lowes and Home Depot. It won't be difficult to find a good merchant on CJ, and the commission rate varies but is generally quite good across the network.
The cookie duration varies based on the merchant, but it will be better than Amazon Associates. In comparison, the dashboard on CJ is a little challenging to get the hang out initially, although it does offer a wide range of functionality.

Pros
You can find many big brands and smaller niche retailers
Offers good commission rates that vary by merchant
The minimum payout of $50 is quite low
Cons
The dashboard will take a while to get used to at the start
3. ShareASale
ShareASale is an ideal network to sign up for to promote both physical and digital products as they have a massive directory of both.
They are one of the most trusted and renowned affiliate networks. Perhaps one of the most significant advantages is the 365-day cookie duration you get, which is a far cry from Amazon's 24-hours. This allows you plenty of opportunities to make a sale through your affiliate link.
Many merchants exclusively work with ShareASale, so you can get unique offers through this network to promote. Like, CJ, the dashboard is a bit hard to navigate at the start, and it feels outdated; however, this is an excellent network to promote products on your blog.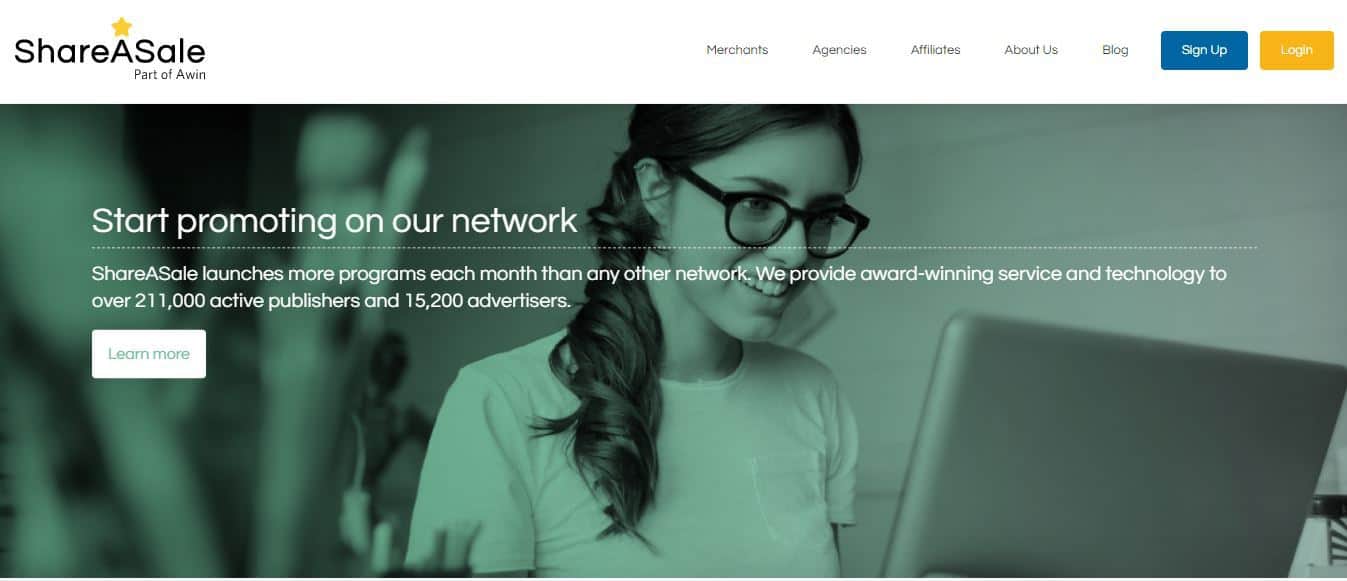 If you are in two minds about ShareASale and CJ, read our comparison guide to find out which one is best.
Pros
365-day cookie duration
Access to merchants that exclusively use ShareASale
A high number of products and services to promote
Cons
The dashboard is a bit outdated and takes some getting used to
4. Rakuten
Rakuten is an affiliate network where you can promote many of the same products you'll find on Amazon. The network includes merchants such as Best Buy, Walmart, and Papa Johns. While the overall number of merchants isn't as big as Awin or CJ, it is still very extensive at over 1000.
Many merchants offer a cookie duration of 2 years (although it does vary), so this is a big advantage.
They also have a fairly low minimum payout of $50, allowing you to get access to your affiliate earnings quite quickly.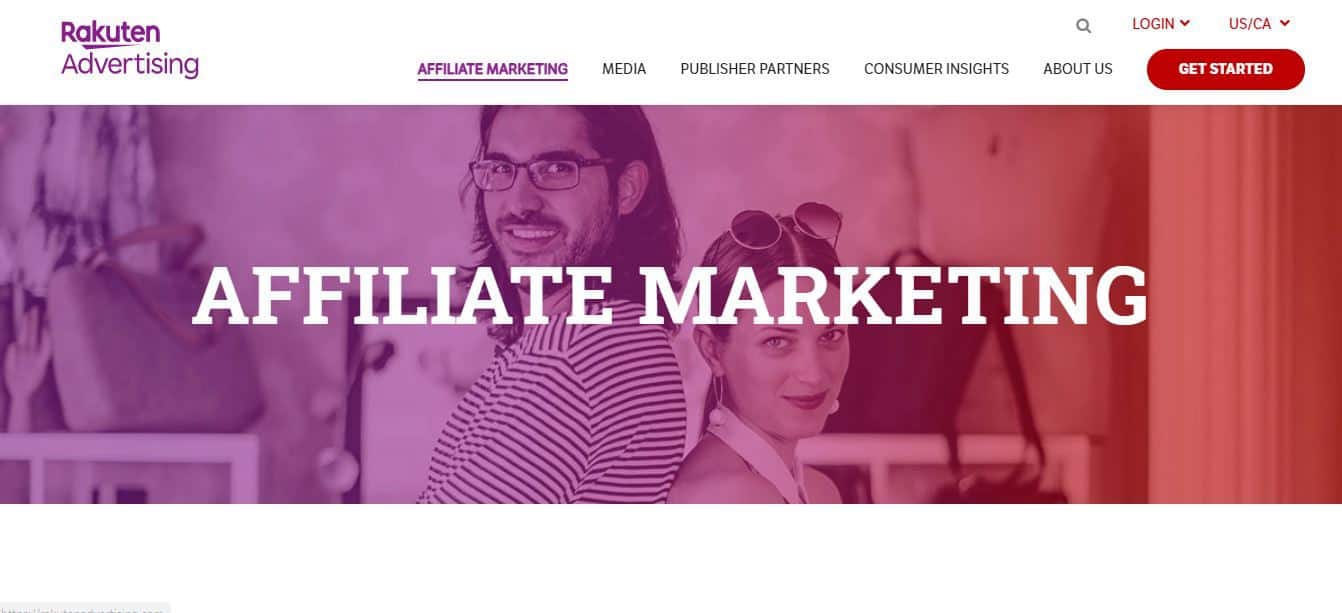 Pros
Partners with a wide range of large retailers and smaller businesses
Cookie duration is long but does depend on the merchant
Low minimum payout of $50
Cons
They don't have as many merchants as some other networks
5. Avantlink
Next up on our list is Avantlink.
Many merchants on this network offer up to 50% commission, which is ideal for making passive income promoting offers on your blog. There are many different products you can promote, so depending on what niche you work in, you'll find offers and services to make money from.
The cookie duration is good across the board as well, as it ranges from 30-days to 120-days. As an affiliate, you'll get access to many different tools to help your marketing effort.
One downside to Avantlink is that their support isn't great, which is disappointing if you need help. That said, they do list a large number of well-known and niche merchants for you to apply to.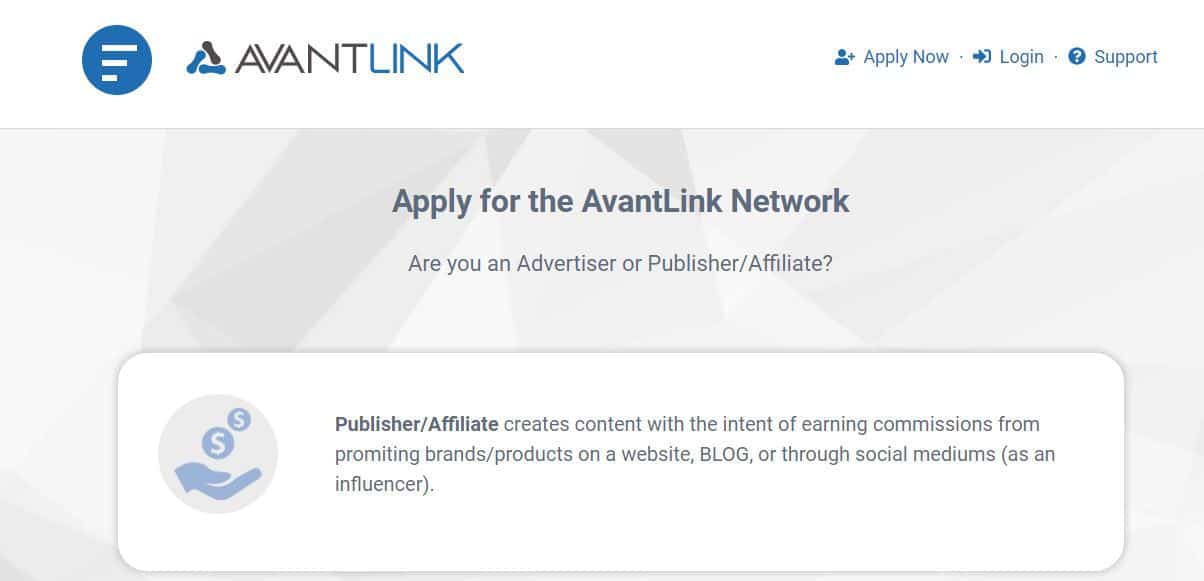 Pros
Commission rates are high across the network
Decent cookie duration from most merchants
Access to different affiliate tools and services
Cons
Their help and support is quite poor
6. Avangate
If you are looking to promote digital goods on your blog, Avangate is a stellar option.
They work exclusively with digital goods and services such as various VPN services, anti-viruses, and malware products, and much more. This offers a wealth of content for you to create on your blog and refer people to these services via your affiliate link.
Avangate lists over 22,000 digital products, which is huge, so you won't be stuck for offers to send to your blog readers. The commission rate is very high with Avangate (up to 85% in some cases), and the cookie duration is a 30day minimum which gives you plenty of time to close a sale.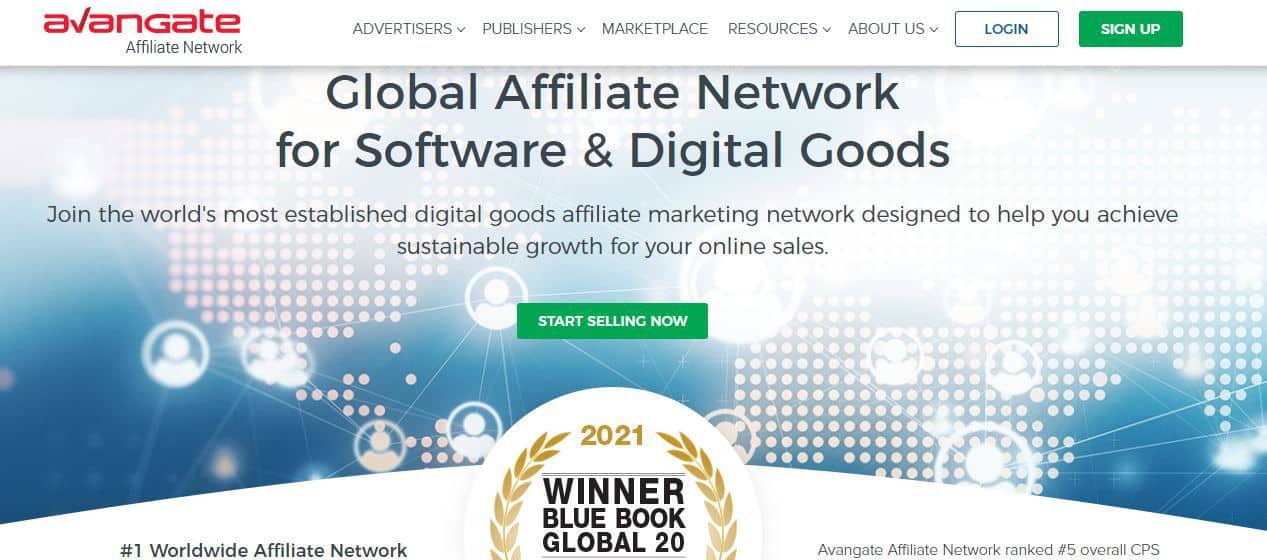 The $100 minimum payout is a little high, and you'll need to make a few sales before you can withdraw any money. However, Avangate does offer PayPal as a payment method that makes accessing your affiliate earnings much easier.
Pros
A perfect affiliate network for digital goods and services
Lists over 22,00 digital products with high commission rates
30-day cookie duration minimum
Cons
$100 minimum payout is quite high
7. Clickbank
If you want a combination of physical and digital products, Clickbank is a good choice.
A potential downside is that you won't find many large brands and retailers here, as Clickbank mainly works with smaller, niche products. In addition, there are some questions about the quality of some of Clickbank's products on their network, but their approval process has got much better.
Aside from that, Clickbank allows you to promote a large number of offers, and the commission rates are usually quite good. With an average 60-day cookie duration, there are many reasons to give Clickbank a chance.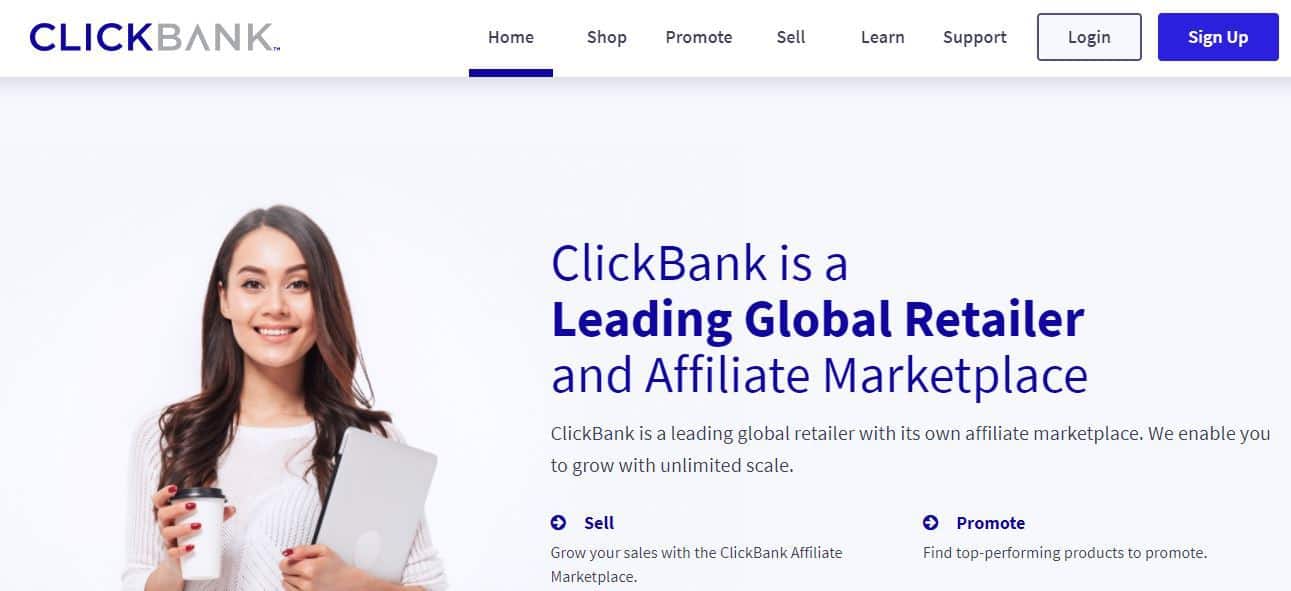 Pros
Access to many digital and physical products
Decent level of commission on most offers
The average cookie duration is 60-days
Cons
There are many poor-quality products and services listed
8. Peerfly
Peerfly is one of the quickest growing networks, allowing you to be part of affiliate programs that are increasing in size all the time.
With Peerfly, you can earn reasonable commission rates that the merchants set on this network. You'll discover many products on this network that you can start promoting through your blog.
The approval process isn't instant, and it usually takes around 3-days to get approved as an affiliate. It isn't a massive deal; however, it will delay your marketing efforts as you can't sign up and start right away. That said, you do get access to many well-known merchants on Peerfly, and you can even benefit from weekly payments if you hit $5000 in earnings.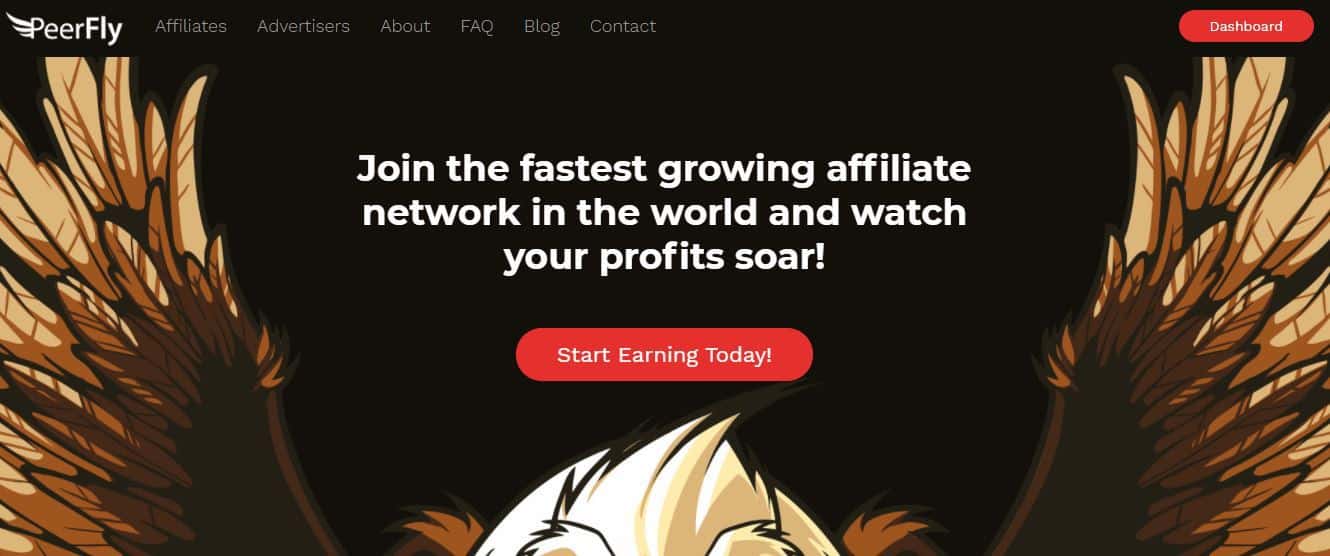 Pros
One of the fastest-growing affiliate networks
Nice mix of larger retailers and niche products
Weekly payments if you earn a certain amount
Cons
The process of getting approved to Peerfly is slow
9. eBay
The first thing you will probably notice about the eBay affiliate program is the cookie duration of 24-hours. This is the same as Amazon Associates. However, with eBay, the duration can be prolonged to cover auctions lasting up to 10-days, as long as the person places a bid within the first 24-hours.
The commission rate can be slightly misleading as well. It is 50% – 70%, but this is a percentage of the commission eBay earns, not the product's actual overall cost.
The upside is that, well, it is eBay, and it has the brand power, and literally millions of people use it. So, you have plenty of opportunities to make money on a heavily used marketplace. The $10 minimum payout is low, which is good too, while it opens the door to promote used products and quirky offers.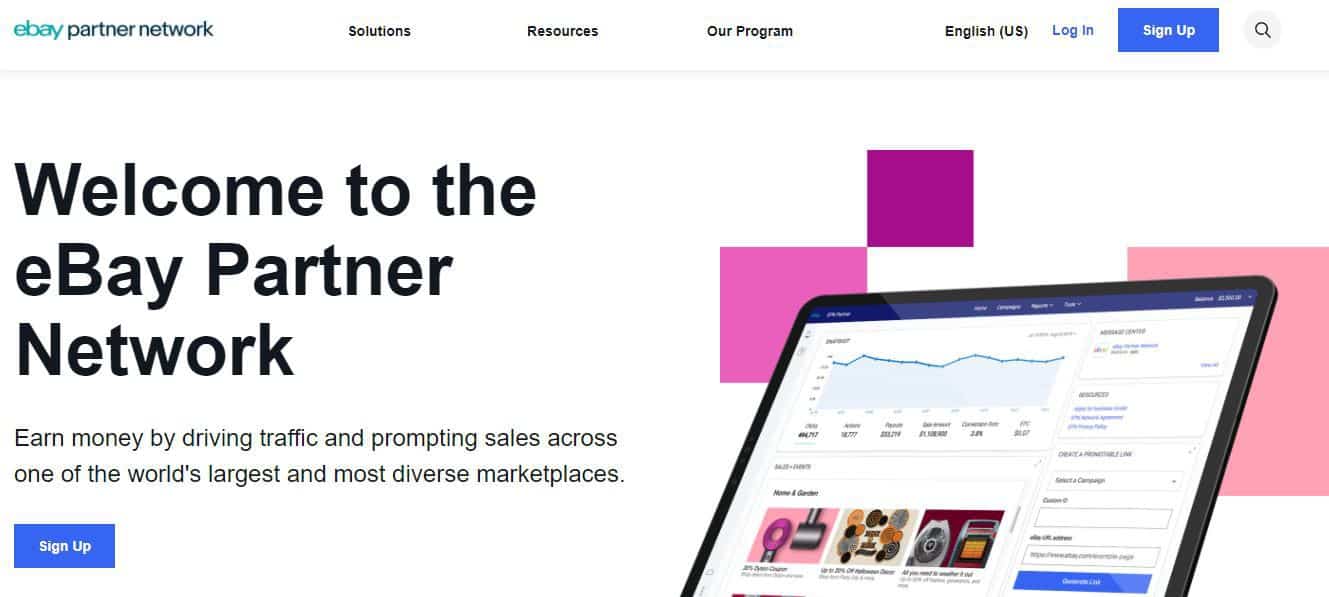 Pros
Chance to prompt unique used products
eBay is trusted and used by millions of people
Commission rate is a bit misleading but can still result in good passive income
Cons
Very short cookie duration like Amazon Associates
Commission rate is a percentage of what eBay earn, not the overall cost of the product
10. Target
Target is one of the biggest retailers in the US, and they are a direct Amazon competitor. If you are looking for somewhere that is fairly similar to Amazon for your blog, Target is where to turn your attention.
Their affiliate programs operate on a tiered structure – the more you sell, the better commission you get. The actual commission rate is relatively low (maximum 8%), but you do a ton of products to promote. If you run a blog in the home, garden, health, beauty, or baby niche, Target has a wide range of great products.
The cookie duration of 7-days is also slightly on the low side, but it is better than Amazon Associates.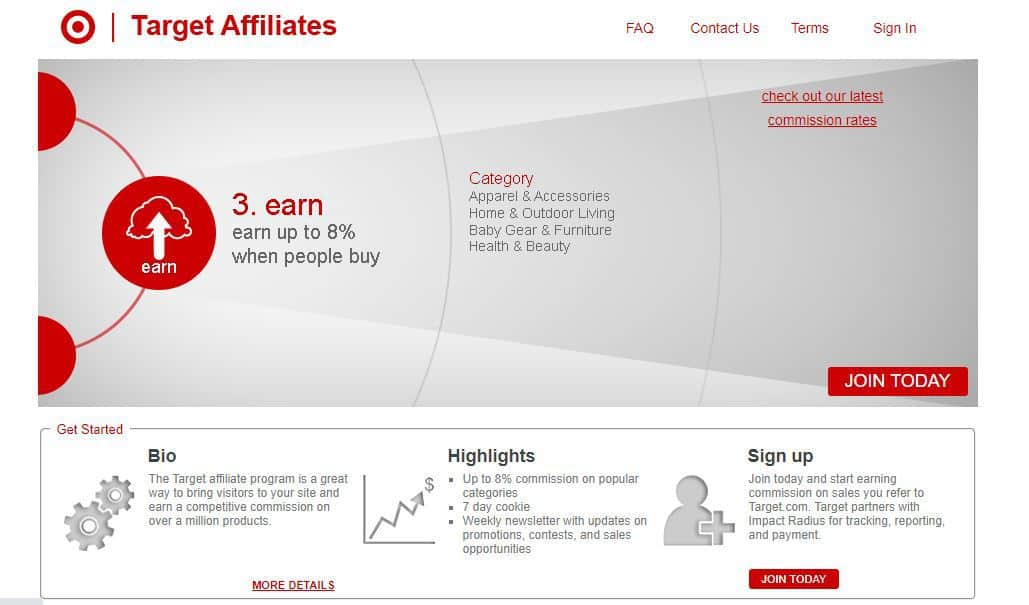 Pros
Huge retailer with products across various niches
The tiered commission, so if you sell more products you earn more commission
7-day cookie is short but better than Amazon
Cons
Limited to the US market
Commission rate is low compared to others
Frequently Asked Questions about Amazon Associates Alternatives for Bloggers
Question: Why should I move away from Amazon Associates?
Answer: You can still promote Amazon products through their affiliate program, but the commission rates have nosedived recently. Many people have found a 60% drop in their affiliate income so looking for an alternative can help make you more money.
Question: How many visitors do I need to my blog to sign up for these affiliate networks?
Answer: It depends. When you go through the initial approval process, some networks will require you to have a minimum amount of visitors to your blog. You should check their policies first before you apply.
Question: Can I place ads on my blog for these affiliate networks?
Answer: Yes. In most cases, you can refer people through your affiliate link both in a blog post and also placed on your website. Check the terms and conditions first with each network, but most will allow you to do both.
Question: Can I be paid daily with these affiliate networks?
Answer: Most affiliate networks payout every two weeks or four weeks, but it can be longer in some cases. Some affiliate networks do pay daily, and you can sign up and enjoy affiliate earnings more frequently.
Question: Can I sign up for more than one affiliate network?
Answer: Yes. You can sign up for as many affiliate networks as you like, and it can be a very good way to diversifying the kind of products and services you blog about.
Question: Why is the cookie duration important with an affiliate program?
Answer: The cookie duration is how long you get to make a sale after someone clicks on your affiliate link in order for you to receive a commission. The cookie duration with Amazon associates was very short (24 hours), so we have listed some alternatives here that provide a longer tracking cookie.
Which is the Best Amazon Associates Alternative for Bloggers?
Many people turn away from Amazon Associates due to their short cookie duration and decision to slash commission rates.
If you want an alternative to Amazon Associates as a blogger, we recommend Awin.
Not only do they have a directory of thousands of merchants, including many big brands such as AliExpress, Under Armor, and HP, but you'll discover many great niches and smaller businesses as well. There are over 13,000 merchants you can apply to, and the commission rates are decent on this network.
With a low minimum payout, so you can start withdrawing money quickly and decent cookie duration, Awin is an ideal network to join and start promoting offers on your blog.
If you want to learn how to find the best recurring affiliate program to generate consistent long-term income, check our complete guide here